When your favorite speaker/music system has no wireless connectivity options, and you don't want to spend extra bucks by purchasing another set of speakers just for the sake of Bluetooth music streaming, then you should go for a Bluetooth audio receiver.
The reason to choose an audio receiver over a new set of speakers are; much cheaper price, easy to get one from any online/offline store, and yes it can do the job very effectively so that you could save thousands of rupees looking for another set of Bluetooth speakers if you already have one.
There are many Chinese companies who provide us a variety of Bluetooth audio receivers in an extremely cheap price range, but you should always avoid those products because there is no guarantee of how long the product will work for you.
So, in this article we have mentioned some of the best Bluetooth audio receivers that are from authentic brands, with good user feedback; so that you can purchase easily without worrying about the product quality and enjoy your music anywhere wireless, no matter whether in your home/office/inside your car.
All set! let's have a quick look over our most picked Bluetooth audio receivers available in India, in a budget price range.
Also Check: Best Wi-Fi Routers Under 2000 INR
Best Budget Bluetooth Audio Receivers in India (Multipurpose):
In this section, the audio receivers we included are meant for multiple uses, but it can only work if your home stereo speakers already have a 3.5mm AUX input jack, or else you may need some additional converters for compatibility, you can use such devices in your car easily.
For home stereo speakers, we have placed another section just below this section of the article, for your better understanding. We hope you still have no confusion furthermore.
CrossBeats Mini Bluetooth Receiver
CrossBeats is a popular electronics company, who constantly delivered high-quality audio products and has good user trust, this mini Bluetooth audio receiver from CrossBeats is one of their most popular products in the market.
This Bluetooth receiver is able to transform 3.5mm audio-out media devices into a Bluetooth device capable of streaming wireless audio via Bluetooth connectivity so that a non-Bluetooth device like a home speaker system can be able to receive high-quality audio
This tiny little device is powered with Bluetooth 4.1 technology, along with a very low latency time of 10 milliseconds to bring out the high-definition media transmission almost lag-free.
The built-in rechargeable battery can perform up to 5 hours continuously with a single charge cycle of 2 hours only.
Now, coming to the best part; this audio receiver can connect two devices simultaneously, and is also compatible with most smartphones or Bluetooth-enabled electronic devices.
All we can say, this product is top-notch and all-rounder in quality music streaming, longer battery life, premium-looking design, seamless connectivity, speed, and compatibility. The one thing to disappoint a little is the build quality of the actual device, which is plastic built; so you have to handle it with additional care & protection always.
If you are planning to buy an external Bluetooth audio receiver for your home/car, you should definitely consider this product. Also, it is available at a very reasonable price on Amazon, for now, you can check the other details by clicking the below link directly.
Please make sure, your wired music system must have the AUX input port so that you can use it with your music system at home. For cars & other vehicles, there is an AUX input port available with most of the music player models, so you will not find any issues there.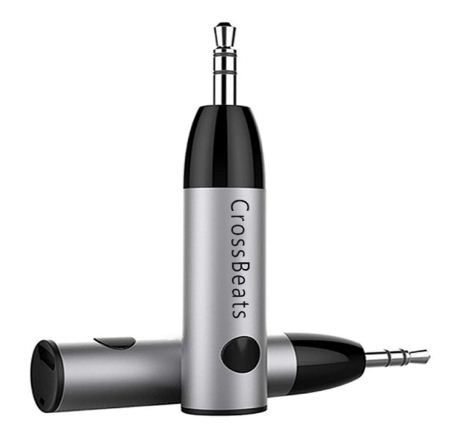 Major Highlights:
A tiny-little device with a premium feel & look
Easily connect any AUX to Bluetooth to go wireless
Provides you Hands-free calling inside your car/along with media playback
Can be paired with two devices simultaneously
Built-in rechargeable battery lasts up to 5 hrs of continuous playback
---
TP-Link NFC Enabled Bluetooth Music Receiver
The Tp-Link Bluetooth music receiver is an NFC-based device that connects Amazon Echo smart speakers and other Bluetooth-enabled devices to connect easily and transmit audio signals to a non Bluetooth enabled speaker.
This device is ideal to use for home/car speakers, which supports a connection of 3.5mm AUX or RCA jack, but it is not compatible with the TV.
The wireless range of the Bluetooth module is extended up to 66 feet(20mtrs) which is almost 2 times of other alternative models.
TP-Link Bluetooth music receiver is compatible with Smartphone/Tablet/PC/Laptop/Echo & other Bluetooth enabled devices, it is easy to set up, also one click to pair up with any nearby NFC device/tag with NFC quick pairing.
If you are looking for a device with good build quality, stylish look, and high-speed music streaming facilities you can surely go for it without any second thoughts, apart from that this device is available in a budget price range so that you can easily afford a branded product from TP-Link, a trusted company in the computer accessories segment.
Please note that there is no rechargeable battery available inside; so to use the device, you always need an external power source or you can alternatively use a power bank, while on a travel to power it up.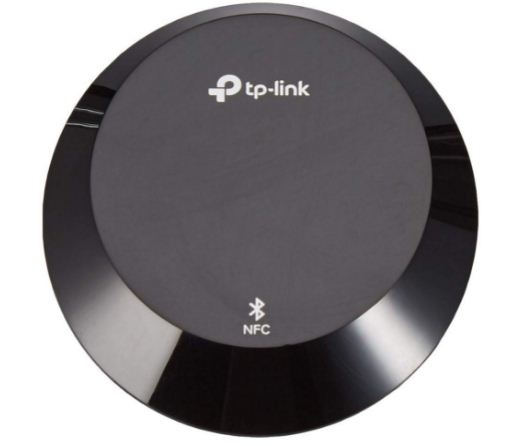 Major Highlights:
A round-shaped device with a compact & premium look
It transforms your old Hi-Fi audio system into a Bluetooth audio system
Long wireless range & NFC advantage
Connect up to 8 different devices
Comes with the:

Power adapter
3.5mm-3.5mm AUX cable
3.5mm-3.5mm RCA cable
NFC tag
Quick installation guide
---
Tantra Fluke Pro Bluetooth Receiver
Tantra Fluke is another stylish and high-performance external Bluetooth receiver that best suits cars or similar kinds of vehicles.
This audio receiver has lots of advanced and easy-to-operate features along with physical shortcut keys, which perform one-click operations instantly. Powered with Bluetooth 5.0 technology it is very convenient to connect it with any smartphone easily.
For easier mounting, there are two methods available for this device, one is the magnetic mount, which easily attaches to any metal surface, and the self-adhesive sticker to attach it to the car dashboard if you want to permanently attach it.
Its sleek finishing, classy look best match your car interior and also make it look trendy & Hi-tech. Apart from that this device helps in hands-free operation along with SIRI voice-command features, so that you can make/receive calls, send text messages, and control music playback without any disturbance.
Works with almost all Bluetooth devices and all cars with a 3.5mm AUX input. Although you require additional power supplies through the USB cable, as there are no charging options available.
The best part of this device is, it delivers an immersive sound experience with crystal clear music playback and echo, noise cancellation features.
So if your plan is to get a good quality Bluetooth audio receiver for your car, this one is the best-preferred option for you to go for without any second thought, this product also comes with a 1-year warranty.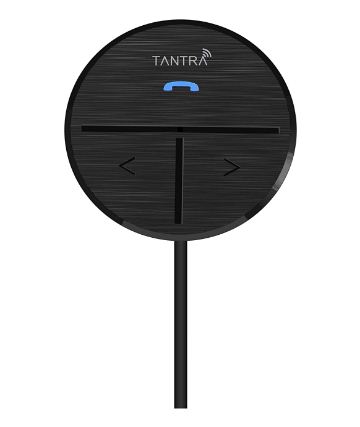 Major Highlights:
Compact, stylish & user-friendly design
Shortcut buttons for easy operation
Easier mounting on your car dashboard
High-quality, crystal clear music playback with echo, noise cancellation
Plug & play easy connect support all devices
SIRI voice recognition assistant supported
---
Best Bluetooth Audio Receivers for Home Stereo Speakers:
In this section, we have listed some products which are best compatible with your wired home theater speakers, because we understand that most of the traditional stereo speakers/home-theaters doesn't have an additional AUX input to connect the above mentioned Bluetooth audio receivers directly, where you need additional connectors/cables to make it compatible for you.
However, the below-listed products are easily compatible because they have a 3.5mm female audio jack, where you can easily insert your speaker cable and stream music wireless instantly, without any additional setup.
Tewtross Bluetooth V5.0 Audio Receiver
Tewtross audio receiver is a small, compact wireless receiver powered with the latest generation Bluetooth V 5.0 technology, this device comes with a 3.5mm audio out jack, which is a great fit for home stereo speakers.
The CSR chipset with the Bluetooth V 5.0 delivers a clear, distortion-free digital audio output to wired speakers, headphones up to 10 meters in distance.
It is a rechargeable device, which provides you a play-time backup of 8-10 hrs on a single charge, hence a good companion for traveling. Apart from that, this device comes with a 1 year of worry-free warranty.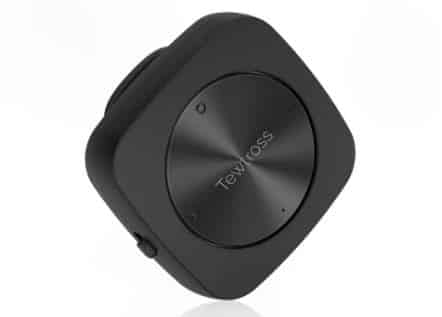 Major Highlights:
Small, compact & stylish device
Comes with Bluetooth V 5.0
The rechargeable device lasts up to 10 hrs
Crystal clear music output & noise cancellation
Great device to make your headphone/speaker wireless
Hands-free calling function
1 year of warranty
---
Also Check: Bluetooth Soundbars with Sub-Woofers Under 10000 INR
Why Having a Bluetooth Audio Receiver is important?
In this section, you will understand the importance of a Bluetooth audio receiver for your needs.
There are some reasons where having an external Bluetooth receiver is handy, because of:
No reasons to purchase an additional set of speakers just for Bluetooth connectivity
Price is much cheaper than having a completely new set of speakers
Easy to configure and works instantly without any complications
Can be connected to any speakers from any device
Easily transferable from one location to another in your pocket
Very small size, compact & stylish looking
Provides you better connectivity range
Easy to place it anywhere; e.g: Home/office/car
Although there are many more advantages to go for, we only mentioned some of the most important points to clear your doubts regarding the product.
Also Check: Best Foldable Tablet Stands Under 1000 INR
Things to Know Before Buying a Bluetooth Audio Receiver:
when we plan to purchase a product, we must know some of the technical details to choose the right product for our requirement, in this case, we also look for some important and unavoidable things to must check before buying a perfect Bluetooth audio receiver.
Build quality: Build quality of a product ensure us how long the product will last for our daily usage cycles. The better the build quality, the longer it will work for you.
So while choosing a receiver, make sure the actual product is built with some quality materials, no matter if it is plastic made, but the plastic must be of high quality.
Connection Range: If a Bluetooth audio receiver provides you a very limited connection range(below the mentioned range), then there is no point going for it, instead, it is better to connect our device with a wired medium.
Connection Stability: Some of the wireless audio receivers are unstable, which means it will automatically drop the connection without any proper reason, it's a technical issue that later causes irritation.
No one will ever prefer to connect a device multiple times just for the sake of audio streaming. So you have to look for this while planning your purchase.
Bluetooth Compatibility: Is your receiver compatible enough with the existing devices you have? it may be your smartphone/speakers, if it is not compatible with your device, then change your preference without any second thought.
Power Source: To run a device properly, it needs some additional power usage, so you must be well aware of your device power source, most of the audio receivers require additional power supplies to run continuously, where a few have in-built batteries attached to recharge it, this is an extra advantage for some people.
You can look according to your requirement profile, whether you need a rechargeable device or just a normal one. We have listed products related to both categories for you in this article.
Reliability: Now, this is a very generic point, in cut short- your device must be from a well-recognized company that has some good user trust because quality companies always deliver quality products for their customers so that you can use it worry-free and better reliability.
Always prefer a product, which has a warranty term of at least for 1-year, never go for a cheap product that has no warranty, just because for the sake of some extra cash.
Final Words:
So, in this article we have tried to feature some of the best selling Bluetooth audio receivers that have good reviews worldwide, these products are also available in India to make your speakers wireless.
You can easily buy any of the products from the given link and use them in your home/car instantly, without any additional setup/configuration.
We hope, you find this article useful. If you think this article deserves a share, please do share it with others as well.
Thank you 🙂
Also Check:
✪ Please Bookmark our website to receive the most useful updates, regularly for free. Press (Ctrl+D) now, to Bookmark instantly. @: gadgetskool.com