The Corona virus pandemic has spread all over the world, and already crores of people got affected so far by now.
So, to keep yourself and your family secure, the best way is to maintain the social distancing & contactless work schedule. These are the only available option as of now. Because no vaccination has been ready yet to beat the pandemic.
Although, various research organizations and institutions are on their way to develop the right vaccine; and few of them are already in their test phase to finalize a product, that will relieve the whole world to some extent.
But, for now there is no practical method has been mentioned as of today to overcome such a crucial situation, the only way out for now is the social distancing that we all have to follow, right?
By keeping everything in our mind, we have suggested such 5 tech gadgets to fight the COVID 19 situation and improve your workflow.
You can use these small gadgets both in your home and office to overcome such situations easily, and monitor your health as well as your employees or family member's health, right there.
Note: These health monitoring COVID gadgets are only meant to monitor your health. Don't be confused that, these products will treat your Coronavirus infection if you've already tested positive. Please seek proper medical advice from your nearest hospital.
5 COVID Gadgets to Fight the Coronavirus(COVID-19) Pandemic:
All these electronic gadgets are suggested in this article are from popular brands, you can undoubtedly pick these products, or you can opt to choose any other one, as per your requirement.
1. Infrared Thermometer
Infrared thermometers are often referred to as contactless/non-contact thermometers, which helps you to monitor a person's body temperature from a certain distance.
These types of thermometers are designed like a toy gun, in which the front of the device is equipped with a high capacity & super fast infrared sensor to measure the person's body temperature by radiating infrared waves to the forehead.
The backside of the thermometer has a built-in LCD display, in which the body temperature is mentioned as an output with some colorful display lights, as an indication.
There are also several small buttons available with the device, which activates various modes, functions, change of temperature format from Celsius to Fahrenheit, etc…
AccuSure HA-650 Infrared Thermometer (Non-Contact)
AccuSure is a trusted and old brand who manufactures various medical equipment, which are adopted by various hospitals and health institutions across the country.
AccuSure HA-650 is a professional quality non-contact, digital thermometer which has several essential features like, dual unit measurement for Fahrenheit & Celsius, super-fast temperature reading, Fever alarm at high temperature, etc.
You can easily afford this COVID gadget and use it to measure the body temperature of your family members & employees easily, right from your home.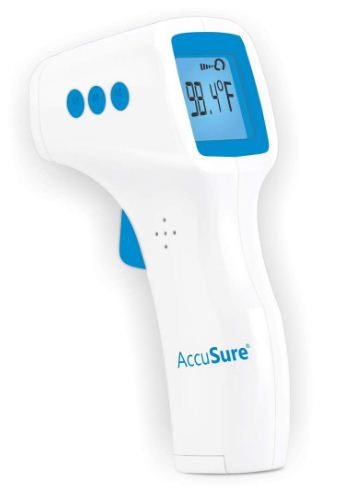 Features of AccuSure HA-650 Infrared Thermometer:
Highly-accurate, non-contact & super-fast reading speed
Blue & Red display lights, for normal and high temperature
Able to measure body temperature and surface temp. also
High temp./Fever alarm for easy notification
Suitable for all age groups; Infant & adult both
2. Pulse Oximeter
A fingertip pulse oximeter is a tiny electronic health gadget, that lets you measure your pulse rate (PR), and SPO2 (Oxygen Saturation) along with the Respiratory Rate easily & fast by using this device, anywhere.
This device usually consist of a sensor, in which the finger is placed on, and after that some infrared beams start reading all the factors and display it over the colorful LCD display on the top of the device, in form of graphs, numbers and other illustrations.
As we all know by the Govt. guidelines, PR & SPO2 are two major factors of Coronavirus infection, and it always gets affected for a positive patient somehow. So, that should be measured frequently.
You can easily measure these factors within a few seconds, by just having a pulse oximeter at your home or workplace.
Dr Trust Professional Series Finger Tip Pulse Oximeter
Dr Trust is a well-known name in the field of medical equipments, This professional series fingertip pulse oximeter is also a winner in this field.
This tiny little device comes with a powerful IR sensor with a low PI (Perfusion Index) ratio, compared to all the other brands available in the market.
Apart from that, other essential features like adjustable audio & visual alarm, Respiratory rate monitor, screen rotation, the anti-motion artifact are also available there.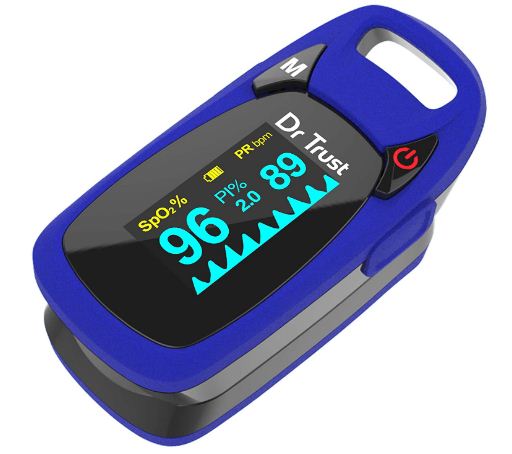 Features of Dr Trust Fingertip Pulse Oximeter:
Accurate, fast & reliable measurements of Blood Oxygen Saturation Level
Water-resistant IP 22
Multi-directional OLED screen display with large fonts for easier reading
Self-adjustable Audio & visual Alarm
Compatible for all age groups including kids
3. Non Contact Soap Dispenser
Soap dispenser are considered as a must have product in every home or office or shops, infact it is one of the most used product these days.
According to the various guidelines passed by the different medical professionals, washing your hand more often frequently is always a good idea for staying away from various infections.
A non contact soap dispenser acts equally like a regular soap dispenser, but it operates itself by using some electronic components in-built inside the device. So to perform a handwash operation, one has to simply put their hands in front of the infrared sensor present at the front notch of the sparayer and the foam will automatically start to pour as needed.
Mi Automatic Soap Dispenser
The global electronics manufacturer giant Xiaomi has recently launched its exclusive product called the Mi Automatic Soap Dispenser within a very price-conscious budget in the Indian market.
This device actually comes with two different parts that you need to assemble yourself easily, one is the sprayer and the other one is the cartridge, which contains the actual liquid foam inside it.
You can check its reviews online and purchase it from the Mi official store too, it is one of the most needed tech gadgets for the COVID 19 Pandemic. This tiny device can be used anywhere e.g: office, home, hotels & restaurant or inside any toilets as well.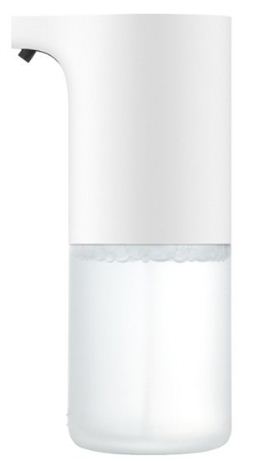 Features of Mi Automatic Soap Dispenser:
Contactless and fast IF sensor for accurate operations
Extra Liquid cartridge available for easy replacement in future
Comes in white color and premium design for a better look
Easy to carry anywhere and portable for all purposes
Rechargeable powerful battery in-built for long usage
4. UV Light Sterilizer Box
A UV light sterilizer box is a special kind of box or a container that has the ability to kill different bacteria and viruses inside it using the high-frequency Ultra Violet light spectrums.
These kind of boxes comes in different sizes, so that you can choose the one you need based upon your requirements. E.g: if you want a sterilizer box for your smartphones, then you might need a smaller one compared to the bigger ones that are necessary for the products or baggage disinfection.
While choosing such products, do make sure that you are choosing the one from a trusted brand, there are so many cheap and useless products are available which will never perform the job you want for.
Halonix Shield Kit Bag UV Sanitizer
As we all know a bit about the success journey of Halonix and it's products, most of us are already using some of its electronics products in our home and office for everyday tasks. There is no doubt about this particular product as well.
Halonix Shield Kit Bag is a UV sanitizer box, that comes with a capacity of 6ltrs. it's a portable box and one can easily carry this handy kit anywhere they want.
The UV sanitizer kit is being powered by a 5V USB charger, and it can work well even with a power bank too. In terms of operation, one has to put stuff like wallets, smartphones, sunglasses, wristwatches, or even a small toy and close the zipper, the device will automatically start the disinfectant process inside without any human exposure. The process will only take 5 minutes to complete.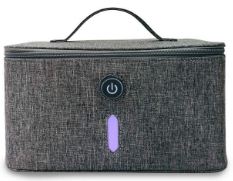 Features of Halonix Shield Kit Bag UV Sanitizer:
USB powered and portable operations anywhere easily
In-built auto timer powers off automatically after a sterilization cycle
Deploys UVC lights for sterilization without any harmful chemicals
One sterilization cycle kills 99.9% of bacteria/virus in just 5 mins
Convenient & effective 360′ sterilization, with all safety features
5. Multipurpose Disinfectant Mist Spray Gun
These kinds of devices are most likely hand sanitizer spray we are using daily. But the key difference is, it is quite large in size, electrically operated, and can easily cover a larger surface as compared to the earlier one we told about.
There are also a small variations of this device available, which is rechargeable, easy to refill and can be carried out to any place you desire, but as it is a smaller one, it will cover a limited area. If you are going to use it for small devices, small packets or bags, it might be quite useful for you.
If you're using such devices for your home or office atmosphere, or there might be a number of goods you need to disinfect, we will suggest you go for the bigger one. It has a large container and can work for a long time with a single refill.
NEXQUA Disinfection Nano Spray Gun
NEXQUA household mist spray gun is a disinfectant device, which is electrically operated and comes with a container to store the liquid disinfectant at the front of the gun.
When you power on the device, the mist will start to spray automatically from the front nozzle and also there are some adjustment knobs, where you can adjust the sprayer and the quantity of spray you want for.
The front refill container of the spray gun has a capacity to store nearly a 260ml of liquid disinfectant inside it & also you can easily detach it for your next refill cycle.
It is suitable for home, office, shops or schools usage where there is a large volume of usage is present.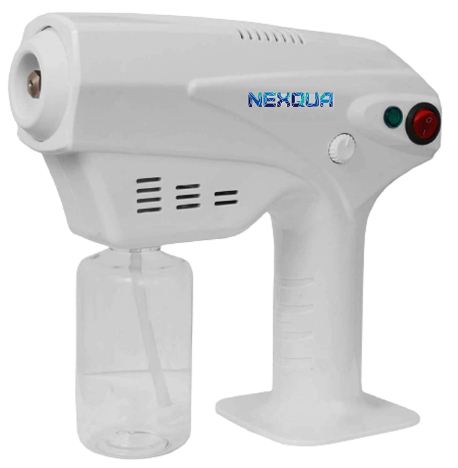 Features of NEXQUA Mist Spray Gun:
Comes with a handy gun shape for easy usage operations
Easily detachable front refill container for multiple usage
On/Off switch, indicator light & fog volume controller
Aluminium atomizing nozzle for uniform spray all around
Best suitable for both indoor & outdoor operations
Final Words:
So, we have covered some of the best COVID gadgets to help yourself protected yourself from the CoronaVirus pandemic, you can also follow the other mentioned guidelines published by WHO and other authorities along with this.
Hope, these electronic gadgets will help you a little bit by easing your daily life tasks for a healthier lifestyle.
If you find this article useful, please do share with other friends to help them stay protected from such a critical situation. Your one share could save a million of people and their lives.
Still have any doubts regarding this post, do comment your queries below to reach us faster.
Have a happy and healthy lifestyle ahead.. 🙂
✪ Please Bookmark our website to receive the most useful updates, regularly for free. Press (Ctrl+D) now, to Bookmark instantly. @: gadgetskool.com