Bluetooth music streaming has got a wide-attention now-a-days when several wireless speakers and soundbars are launched by various manufacturers worldwide.
There are a good set of affordable and budget friendly speakers available with crystal clear, & dynamic audio outputs for Indian audiences as well.
So, if you are looking for a good-quality soundbar with a powerful sub-woofer for your home or small office usage, then you are in the right article.
Now, let's talk about some of the best soundbars under 10,000 Rupees price range that are available in Indian market.
Best Soundbars under 10000 Rupees in India:
These soundbars are the best fit for your TV that comes with multiple connectivity options like Bluetooth, USB, and HDMI inputs.
(Connectivity options may vary for different products listed below, please check the official website links provided with each product before purchasing any product)
1. Infinity (JBL) Sonic B200WL
Infinity, acquired by JBL is one of the pioneer in high-quality and premium audio devices manufacturing. Their most of the products hit the market with latest technologies, truly amazing audio outputs and with a decent build quality.
Sonic B200WL is a 160w peak power output 2.1 channel Bluetooth soundbar, with a powerful subwoofer that delivers the deep bass sound for different modes like movies, music & news.
Various connectivity options are available for this product such as USB 2.0, AUX, and Optical input, that enable you to connect to various devices easily.

Features of Sonic B200WL:
160w Peak power output soundbar with bass boost
Deep bass output and supports multiple modes
USB 2.0, AUX & Optical inputs for easy connectivity
Multi-function remote with dedicated bass boosting function
Completely wireless passive subwoofer
2. boAt AAVANTE Bar 2050
boAt has made it's way clear by grabbing a good amount of popularity in the last previous years by providing some truly amazing audio devices, Headphones, Bluetooth Speakers, etc.
boAt AAVANTE bar 2050 is one of among those top-notch products that comes with a 160w 2.1 channel audio output with a powerful wireless sub-woofer.
Other connectivity options such as Bluetooth 5.0, AUX, USB, HDMI(ARC) & Optical inputs are available for wireless music streaming.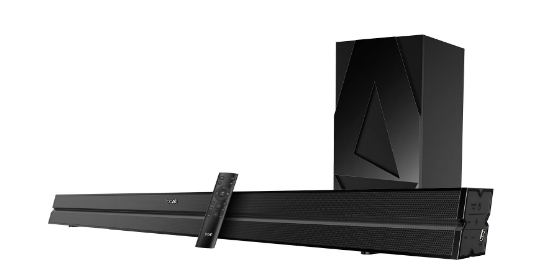 Features of boAt AAVANTE Bar 2050:
Premium finish sleek design
Master remote control to access various entertainment modes like movies, music, news, 3D
160w audio output with heavy bass
2.1 channel soundbar with wireless subwoofer
Bluetooth V5.0, HDMI(ARC), Optical, AUX, USB inputs for easy connectivity
3. Blaupunkt SBWL02 130w Bluetooth Soundbar
Have you heard the German legend! the tag line clearly shows it all. You might not so much familiar with this brand in India yet, but this is a very popular and old brand manufacturer of high-end audio devices.
The Blaupunkt SBWL02 is one of the best soundbars under 10,000 rupees, and the best part is that it is now available in India.
This Bluetooth soundbar powered with a completely wireless, powerful sub-woofer that delivers truly legendary 130 watts of audio output with super bass.
Talking about the connectivity options, it has several ports for easier pairing to any devices such as: Bluetooth, AUX in, USB, HDMI ARC, Optical inputs.
This product is universally compatible with almost all Smartphones, Televisions, Laptops and other audio devices.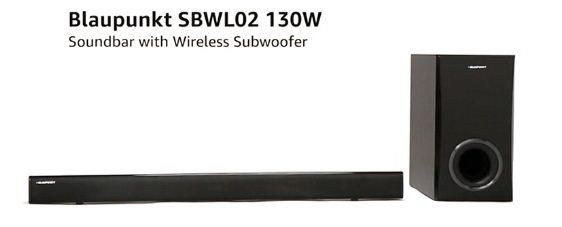 Features of Blaupunkt SBWL02:
Cutting edge audio technology with super bass & brilliant music output
130w wireless sub-woofer with earth-moving bass
Bluetooth, AUX, HDMI-ARC, USB & Optical inputs
Multiple adaptive sounds modes with premium finish decor-friendly design
Fully functional remote control with four equalizer modes
2.1 channel audio output
Also Read: Best Wi-Fi Routers in India under 2000 INR
4. Ant Audio Treble X (SB560)
According to the reviews of the most users Ant Audio Treble X SB560 is the one of the alternate option you can choose to go for. Ant Audio is also a quite popular company to try their products, & they have also provided a set of good quality audio devices in the last few years.
The Treble X SB560 model is a 120w / 2.1 wireless Bluetooth soundbar with a sub woofer, that comes with a simple and elegant design and also have a good build-quality.
Looking for the connectivity and other technical options? let's discuss that below.
The connectivity ports/options available with this products are: USB, AUX in, HDMI ARC, Optical in, and also with extra bass functions.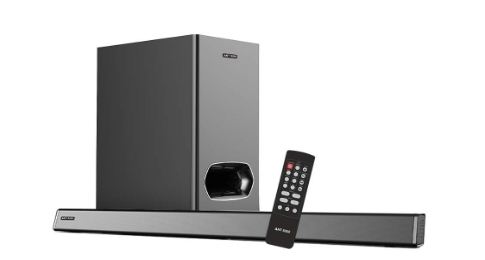 Features of Ant Audio Treble X SB560:
Stylish & sleek design body
2.1 channel with 120 Watts audio output with the extra bass function
USB, AUX, HDMI ARC, Optical inputs along with Bluetooth 4.2 compatibility
Wireless Subwoofer for powerful, stereo surround sound output
High-sensitivity & fully functional IR remote with 4 equalizer modes
5. ZOOOK Rocker Studio One Soundbar with Sub-woofer
Now, the next one in our list is a decent soundbar from ZOOOK, named as the ZOOOK Rocker Studio One.
This Bluetooth soundbar comes within your price budget and some regular specifications can be found with the product which we discussed below. It is not a top-class soundbar though you can opt for it also compared to the price point.
Some of the technical specifications and features of this bar is; it has a 70 Watts dedicated sub woofer and in total it can deliver a maximum sound output of 130 Watts powerful surround sound combined (Speaker+Sub-woofer).
Input ports like HDMI, Optical, AUX & USB are also available which makes it more compatible for your devices connectivity.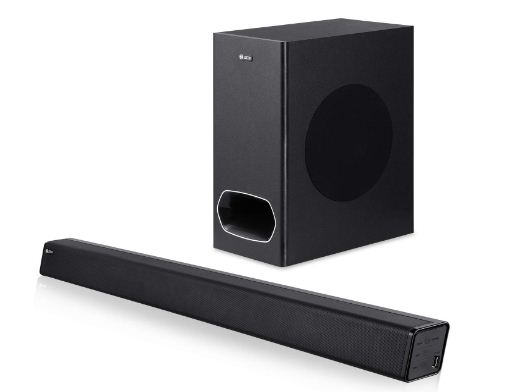 Features of ZOOOK Rocker Studio One:
2.1 channel powerful 130w surround sound output with thrilling bass
Bluetooth 5.0, Optical, HD, AUX, & USB supported
High-clarity and precision control bass & treble for 3D sound effect
Fully functional remote as well as dedicated buttons available for easy controls
4 Equalizer modes to match different programs of your choice
6. CloudWalker Burst E3000
This one is seriously cool, and I liked this product a lot because of the design and it comes with a cool & colorful LED lights pattern that makes it a great choice.
The sound quality of the product is pretty good compared to all the above ones, and it is a 100 Watts powerful soundbar along with the 60W external subwoofer for rich & deep bass.
CloudWalker Burst E3000 powered with the latest Bluetooth 5.0 for wireless connectivity, apart from that you can get the AUX, line-in, or Optical ports for multiple connectivity features for your device.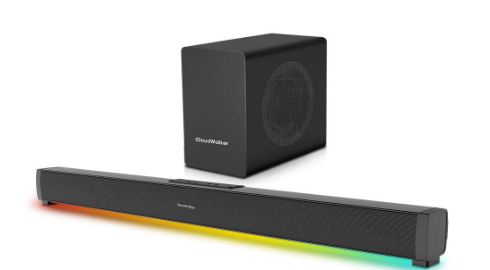 Features of CloudWalker Burst E3000:
2.1 channel audio output with 100W+60W Sub-woofer
Unique and Colorful LED party lights
Bluetooth 5.0, AUX, Optical, Line-in connectivity
5 Preset equalizers for the right sound effect (Classical, Rock, Jazz, Pop, Flat)
Digital signal processing, with full-range drivers to deliver crystal clear & dynamic sound output
7. Mulo Arena 5000
You might not love the typical, square-shaped design of this product, but it actually worth it. There are in fact a hundred people who reviewed this product as the best one in this segment, cause they are all satisfied with the output.
To be honest with my opinion for this one, it is actually a soundbar that brings you a 45 Watts RMS output with a subwoofer which can deliver 25W audio. Now you must be thinking that, as compared to the previous ones, its quite low! well also the price is.
Looking for the technical features, you can get a regular Bluetooth version 4.2, AUX ports to easily connect this device to your smartphone, TV or laptop.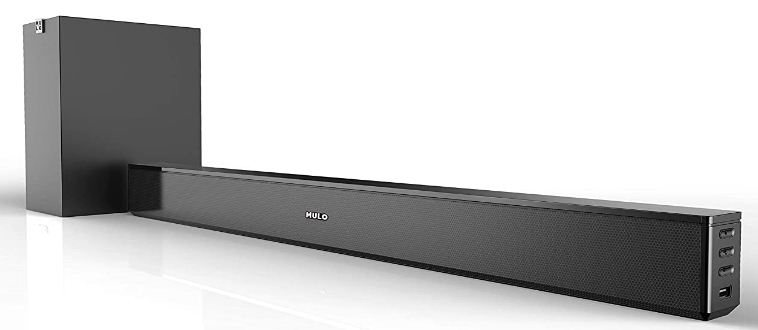 Features of Mulo Arena 5000:
Delivers heart-pumping bass with full-spectrum audio quality
2.1 channel audio output with 45W RMS + 25W sub
Bluetooth, AUX-in, USB, and Remote control
4 Pre-defined equalizer modes (Movies, Music, News & 3D)
Bold and powerful wired Subwoofer
That's all for the list now, further updates will be added soon, if we find some more cool products for you.
Top Things to Notice While Purchasing the Right SoundBar:
1. Design & Build-Quality:
Design: Do you guys really think that the design of the soundbar matters, of course, yes. We are living in such an era where apart from the features & specs. the design also matters a lot. Imagine a beautiful living room decorated with so many great pieces of stuff and there placed an ugly soundbar. I hope you got the point, now.
Build-Quality: The build quality of any device ensures how long the product lasts. In fact the more durable & well built it is, the more long life. This actually depends upon the materials used, the external cabinet design, & the overall structure of the particular product to look for.
2. Technical Features & Specifications:
Overall Structure: This part mainly consists of the internal as well as the external structures of the soundbar. The materials used, the driver's placement, placement of control buttons and ports, etc.
Speakers: A high-quality driver speaker always delivers great music experience, so make sure the speakers are well built and also powerful ones.
Speakers Structure: Does your soundbar has some front-firing speakers? or it is upward/downward in direction? front-firing speakers are always a great choice so that you can able to listen to the clear audio output. Most of the premium range speakers have upward or downward speakers for immersive 3D audio experiences, but they are also high-priced ones always.
Subwoofer Design: What about the subwoofer you are getting along with your product? is it wired or wireless? a wireless subwoofer is always the best one to choose for so that you can place the bar and the sub at different places for getting the surround sound experience. Most of the speakers we discussed in this article come with a wireless subwoofer, and that's awesome. right?
In-built Amplifier: Most manufacturers claim that they have used some kind of powerful dedicated sound-engines(chipsets) for an immersive audio experience. If your product has one of that kind, then you are good to go with.
Subwoofer Body: As long as we have tested most home theatre speakers, we found that a wooden built subwoofer always provides the best result in terms of rich bass as compared to a fiber one.
Connectivity & Ports: If you are planning to connect your soundbar with multiple devices like Smart TV/LED TV, Smartphones, Laptops, etc. then make sure you have multiple connectivities options such as USB, AUX, Optical, HDMI & Bluetooth mostly. This is one of the most important things to look for while choosing your soundbar, wisely.
Weight: If you are not planning to travel a lot, you can easily ignore this step, but a good build quality soundbar is a weighted one. Check this if you want such a one.
Brand: Lastly, the brand of a product matters a lot. Only a good company can be able to manufacture good quality products, and also they use some high-quality components in their products also, which will obviously deliver some amazing experiences to your hearing. The products we have featured in this list are only from trusted & popular manufacturers, so you don't have to worry about that.
Wrapping up:
So, we have presented our top picks for you, now it's your turn to make the right decision while purchasing for the one that suits your buget.
In this article we have covered the top 7 best soundbars under 10,000 Rupees in India. Hope you find this article useful.
If you really find something good inside this article, please don't forget to share with other people, they might be looking for it.
Finally, if you have any questions/queries, don't forget to comment below.
Enjoy! your day, while having some great entertainment. Your favorite shows are waiting for you.
People Also Read:
✪ Please Bookmark our website to receive the most useful updates, regularly for free. Press (Ctrl+D) now, to Bookmark instantly. @: gadgetskool.com