Traditional watches are being replaced by full-featured smartwatches today; the main advantage of having a smartwatch is, that you have more control over your activities…
Smartwatches these days are not only presented as a watch, but it's also more often known as a style statement and is being adopted by most youngsters as a first choice while purchasing them.
There are various popular brands, who stepped forward towards the smartwatch manufacturing segment, and they have also launched a tremendous amount of products as of now.
Talking about the smartwatches and their features, these watches becoming smarter day by day with their unique technology and innovative features, although you will find that some of these are already been featured with a couple of advanced sensors for a specific set of operations.
These sensors are accurate and capable enough to perform those tasks seamlessly.
today in this article, we will discuss some of the best unisex smartwatches available in the Indian market for those potential buyers looking forward to having them.
Also Read: Best Tech Gifts for Women
Best Stylish Unisex Smartwatches available in India:
| | | | | | | |
| --- | --- | --- | --- | --- | --- | --- |
| Product | Oximeter(SpO2) | Heart Rate Monitor | Sleep Tracker | Thermometer | GPS Tracking | Call/WhatsApp/Message Notifications |
| NoiseFit Endure | Yes | | Yes | No | No | |
| CrossBeats Ace | Yes | Yes | Yes | No | Yes | Yes |
| Amazfit GTS 2 Mini | Yes | Yes | Yes | No | | Yes |
| Beetel FLiX S1 | No | Yes | Yes | Yes | No | |
| GOQii Smart Vital | Yes | Yes | Yes | | | Yes |
| TAGG Verve | | Yes | Yes | | Yes | Yes |
| Pebble Pace | Yes | Yes | Yes | | | Yes |
1. NoiseFit Endure Smartwatch
The round shape dial of this watch is what delivers a truly premium look, it's stylish as well as sporty.
You can choose this watch for all of your daily life tasks from those sports activities to office hours, it's a perfect fit on your hand with a rich bossy look.
For girls, whether they have a western outfit or else with ethnic traditional wear, it looks pretty with everything and matches every style.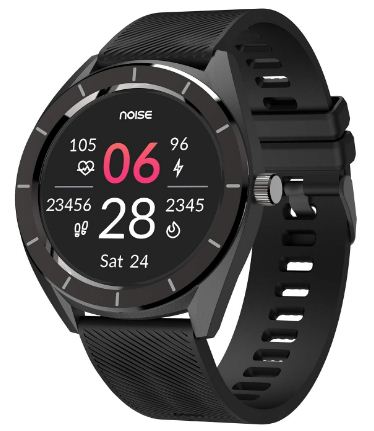 Features of NoiseFit Endure Smartwatch:
1.28″ wide TFT color display is as easy to read in bright sunlight
100+ cloud-based watch faces to let you choose your fresh style every day
Full-touch & full-color display delivers an exceptional premium look
Stainless steel bezels make it extra strong enough for outdoor activities
Extremely light-weight along with SpO2 monitor, IP68 waterproof rating
Lasts up to 20 days on a single charge
9 sports modes for everyday physical activities
Easy to track your progress with the NoiseFit App
1 year assured warranty from NOISE
Available in 3 different colors
2. Crossbeats Ace Smartwatch
This one is another similar round-shaped dialed smartwatch with a different color style for youngsters.
The watch faces of this tiny strap are pretty impressive, they look seriously stunning.
This fashion-centric smartwatch is fully loaded with many features and sensors, which means this is a true all-rounder.
If you are looking for an all-in-one smartwatch and also a fashion lover on the other side, you must go for this one without any confusion.
This is a pretty good fit for both men & women of any style and of any age.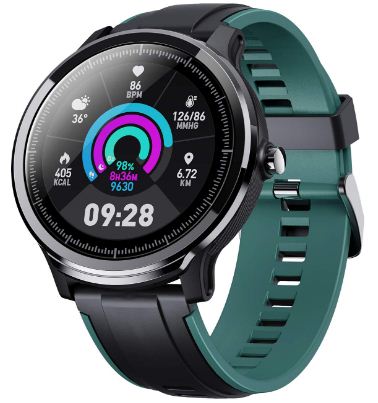 Features of Crossbeats Ace Smartwatch:
Stylish, full-round 1.3″ LCD display with greater touch response
Loaded with 8 multi-sport games & fitness activities with precise tracking
Tough Carbon metal texture with CNC process polishing gives this a smart yet rigid body to endure outdoor activities all through the day
The fastest chipset on a smartwatch backed by the next-gen NORDIC chipset with BOSCH-G sensors for better accuracy yet reliability
3D Hologram UI display with Bluetooth 5.0 technology for great connectivity
Fully charge in less than 90 mins. and lasts up to 15 days on a single charge cycle
Dual-color Silicon band with IPS HD display for better reading and premium look
Personalize your display with up to 250 watch faces
Heart rate, blood pressure, and SpO2 monitor
Completely waterproof to endure the shower, rain, beaches, or any water activities
In-app GPS tracking, call notifications, smart vibration alerts
Available in 2 different colors
Also Read: Best Gadgets for College Students
3. Amazfit GTS 2 Mini Smartwatch
Huami, the manufacturer of the Amazfit smartwatch series grabbed the most popular compared to any other brand, due to its top-quality products.
Amazfit GTS 2 Mini is an excellent option both for boys & girls, but in terms of price, it is on the higher side compared to all the other models listed in this article.
But, if the price is not a concern for you, you can definitely go for this one.
This device is loaded with lots of features & sensors, which will uncover the geek inside your personality.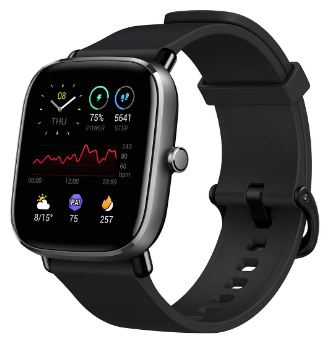 Features of Amazfit GTS 2 Mini Smartwatch:
1.55″ AMOLED display with high 314 PPI resolution for a crystal clear image and sharp details
The Aluminum Alloy metal look gives this a premium and solid look
70+ built-in sports modes & 5 ATM water-resistance for everyday activities
19.5 grams super light-weight and thin body
GPS+GLONASS dual-satellite positioning chipset for increased speed & accuracy
Intelligent Blood Oxygen Level (SpO2) monitoring
14-days long battery life
Heart rate, sleep, and stress level monitoring
50+ watch faces with an online voice assistant
Available in 3 different color options
4. Beetel FLiX S1 Smartwatch
Beetel FLiX s1 is a simply designed smartwatch that delivers you a casual look in your workplace.
This fitness tracker is a lightweight and waterproof device and has various activity tracking features you need for your daily work schedules.
The simplicity and premium look of this watch is what it separates from the other popular models, people who love to have a simple look would definitely choose this one, and it comes in an affordable price range too.
Another great feature of this smartwatch is having the find a phone feature, by which you can easily ring your phone if it is connected with the watch with just a single tap.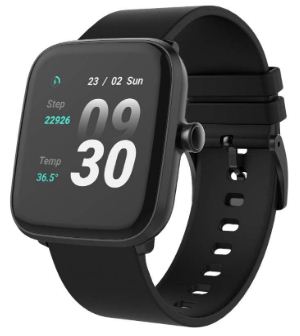 Features of Beetel FLiX S1 Smartwatch:
1.4″ large IPS display
IP 68 Water & Dust resistant
Sleep & daily activity tracking
24 Hours body temperature & heart-rate monitor sensor
Find a phone feature to find your lost phone in one tap
Up to 10 days of battery standby
34g light-weight
5. GOQii Smart Vital Fitness Tracker
GOQii Smart Vital is another newcomer in the Indian market with a good set of latest features along with some most advanced sensors built-in.
Considering the price band they provide a few good sets of smartwatches for the price-concerned audience with some cool features and styles. This watch is an all-in-one fitness tracker for all your activities and health monitoring.
This one is a great alternative to other popular brands like Noise, FitBit, Amazfit, etc.
If you want to gift someone a watch with all the latest features and functions, you can go with this model, it can be a very nice gift from your side as well.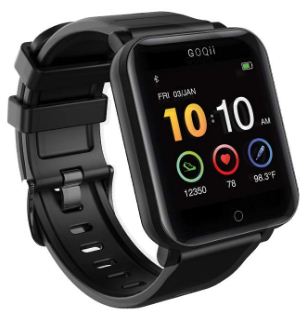 Features of GOQii Smart Vital:
Comes with a 1.3″ color display with a full touch screen
IP 68 Water & Dust resistance
Multiple customized watch faces
Find my phone, Music controls, Camera controls, Wake up alarm
Stopwatch, timer, and in-activity features
WhatsApp, Facebook, Call & Messages notifications
24×7 Heart-rate monitoring, intelligent SpO2 monitoring, and sleep tracking
34 grams light-weight device
Up to 7 days of battery life on a single charge cycle
18+ exercise and activity modes
Also Read: 5 Tech Gadgets to Fight the COVID 19 Pandemic
6. TAGG Verve Smartwatch
TAGG Verve is the next best newcomer in the market, now available for Indian people.
As TAGG always put their best possible towards all of their products, this one is also no different.
The Stylish black colored smartwatch with premium finish edges, makes it stand out from the crowd. The design of this watch is simply impressive.
Whether you are a boy or a girl, this will be going to add that dynamic look to your styles definitely.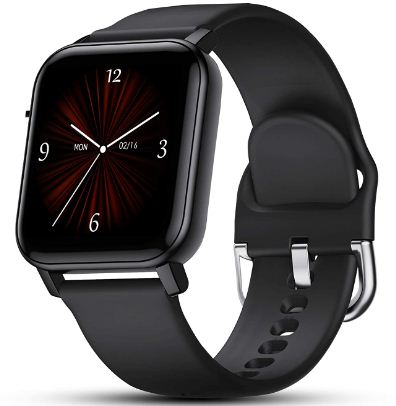 Features of TAGG Verve Smartwatch:
1.4″ Bigger display with a 93% screen-ratio, and an ultra-narrow Bezel
Better accuracy with the NORDIC NRF52 advanced chipset and BOSCH G sensor
Incoming calls, WhatsApp, messages notifications
In-built GPS to track your activities on the map
Multi-sports modes for indoor & outdoor training
Heart rate and sleep monitor with high accuracy
10 days long battery life
Remote camera and music controls
IP 68 waterproof
Motion sensor with 360-degree second-hand display
Build with the premium Zinc-Alloy body
Comes with a 1-year warranty
available in 3 different colors
7. Pebble Pace Smartwatch
A stylish, trendy smartwatch from the legendary Pebble, with a 1.4″ full-touch screened device designed to monitor all your daily activities and health reports easily from your wrist.
The advanced technology perfectly syncs with your lifestyle and health-related activities all day & night, which makes it a great gifting option for men, women, and children.
Powerful IPX67 Waterproof Pebble Pace, a serious sweat and waterproof device for the unstoppable active lifestyle & sports routines.
Whether you are in your formals or even in party wear, the perfect blend of fashion and convenience will match all your styles and let you stand out from the crowd.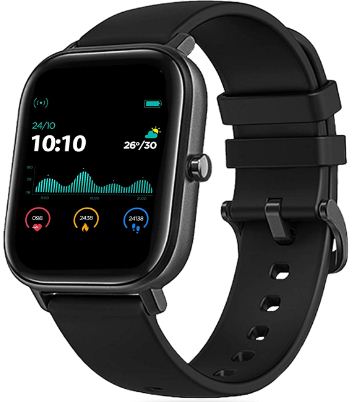 Features of Pebble Pace Smartwatch:
1.4″ full touch screen display with haptic touch
Heart rate, Blood Pressure, SpO2, Sleep monitor
100+ customizable watch faces matching your mood
Multiple workout modes with an in-built active step Pedometer
Up to 14 days of battery backup in standby mode
WhatsApp, Call, and other smart notifications with alerts
Weather Forecast alert
Available in 2 different colors for men & women
So, this is it for now; we have listed some of the best unisex smartwatch collections that are best suitable for all genders.
If you like this article, do share it with others. Any questions in mind? comment your queries below.
✪ Please Bookmark our website to receive the most useful updates, regularly for free. Press (Ctrl+D) now, to Bookmark instantly. @: gadgetskool.com