Airtel SIM Not Working Today? Is your Airtel SIM failed to connect to the network? Is your Airtel SIM not working properly on your recently changed device? or you may be getting no signals after inserting your SIM card for a long time.
If you are facing any sort of issues mentioned above then you need to read this article completely.
This guide will help you to figure out the most common issues related to the Airtel mobile network and will help you in fixing them in a few seconds.
In this article I have mentioned every step in detail to fix your problem instantly, if you miss any of the steps, you might be not able to get your signals back.
| | |
| --- | --- |
| ISP Name: | Airtel India |
| Code: | INDAirtel |
| Service Type: | Telecom |
| Customer Support: | 121 |
| Parent Company: | Bharti Airtel |
Steps to Fix the Airtel SIM Not Working Problem:
Every SIM card becomes dead over time. If your Airtel SIM card is dead, due to inactivity or because of a SIM card short-circuit, which is common for some users, you need to contact your nearest outlet/Airtel office for a SIM card replacement facility.
If you're sure enough that your Airtel sim is not working for some other reason, then you must try the below-mentioned steps for a quick resolution.
I have been an Airtel user for almost 10+ years, and the steps am gonna share in this article are 100% tested and tried, so have patience and follow the steps carefully.
Watch the Video:
Switch off your phone, & remove the SIM card
Clean the gold-plated area of your SIM card using a neat cloth to remove the dirt
Insert the SIM card properly in slot 1 (if you have a dual SIM phone)
Switch on your device, by pressing the power button
Go to the phone settings, and activate the airplane mode
Leave the device for 15 – 30 seconds and then deactivate the airplane mode
Change the device network selection to Automatic mode
Wait for a few minutes until it auto registers to the nearest Airtel network
Change the network mode to 4G/3G Recommended
If your network selection is set to automatic, change it to manual mode
Go to Settings – Backup & Reset – Network Settings – Reset Network Settings
Move to an open area, maybe you're not inside the coverage area
Update your device date & time to the recent
Update your phone software to the latest version
Check your validity & recharge details properly
These are the most effective & working solutions and also work well with all devices. Hope it will fix the Airtel SIM not working problem.
*Also get 100Rs. Free Coupon by clicking the above button & downloading the app.
Airtel SIM Network Problems and Solutions:
Airtel SIM not Detecting in my Device:
To fix this issue, make sure your SIM is active and good in condition. Then remove the SIM card, clean the gold-plated connectors using a neat cloth, and insert it back in slot 1 of your phone.
This problem usually happens because of the dirt present on your SIM, in most cases if you're using an old SIM card for a very long time.
---
Airtel SIM not Working in Slot 1:
In this case, we may assume that your SIM card is active and recently not getting detected due to some reasons. Remove your SIM card and place it in SIM slot 2, if you have a dual SIM handset.
You can also check your SIM card by putting it in another handset for confirmation. If the SIM is working fine by altering the handset/SIM slot, then your device is having some kind of issues with the SIM card slot.
---
Airtel Network Suddenly Disappeared:
This is one of the most asked queries of every cellular subscriber, and you don't need to be worried about it. Because this problem happens usually many times a day, due to some technical upgrades or system maintenance activities.
Just wait for a few hours and you will start to receive the signal very soon. To confirm the issue, just cross-check it once with your nearest Airtel subscriber. If the same thing has happened to them, rest assured and wait.
---
Also, Read:
Possible Reasons for Which your Airtel SIM not Working Properly:
There can be many reasons why the user can't get any network signals, and we have compiled the most common ones below; do check out these things properly.
Inactive SIM Card?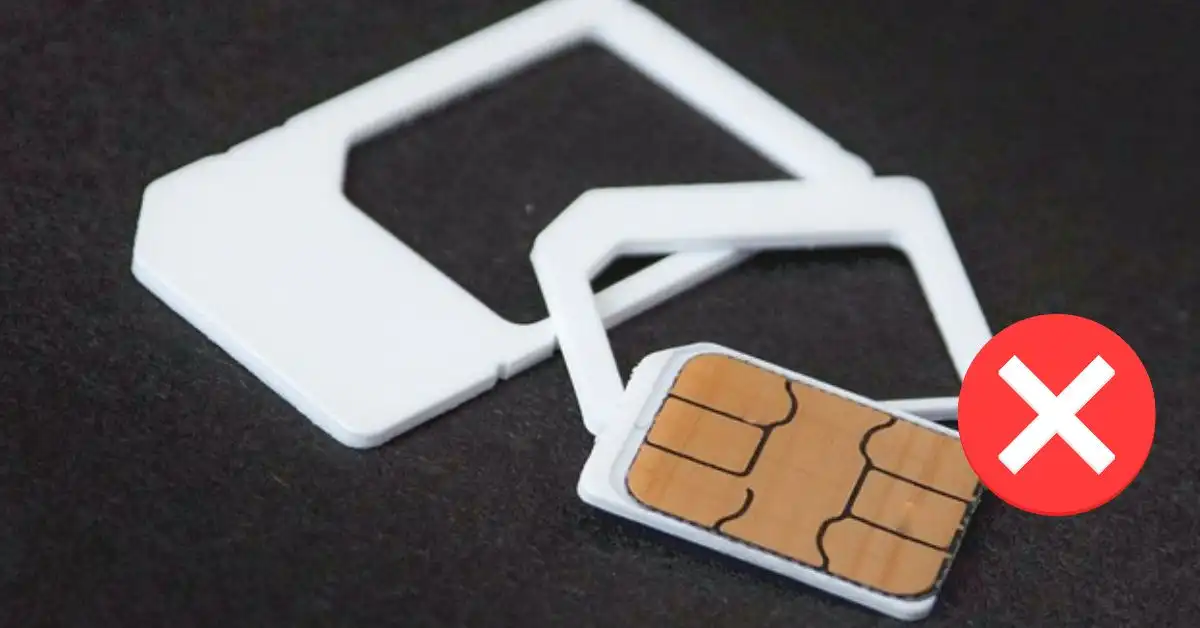 Make sure that your Airtel SIM card is active & running, sometimes while having multiple SIM cards with us, we often forget to recharge the SIM card for extended validity.
In this way if you do not have any active plans currently, you might have no signals, what you can do next is, just visit any nearest store and check if your connection is still active or not.
If the SIM card you are having is no more valid, you can opt for a new SIM card from there.
Also Read: How to reapply for the Lost Airtel SIM
Low or no Network Coverage Area?
Have you tried to connect in a region/area where there are no active signals present? just cross-check it with another similar device having the same Airtel connection for better confirmation.
If they're having good signal strength then proceed to the next step and if other people in your area are also having the same issues for a long time, it's time to change the operator or you can change the living area, in this case, the alternative one is quite difficult.
Also Read: How to Check Airtel Signal Strength in Your Area
Flight Mode Activated?
Have you accidentally clicked on the flight mode button? just have a look, if it is active. While flight mode is activated on a device, you will get no network signals.
Just click over the icon again to disable it, and wait for some time to check the signal strength again.
Also Read: Visible wireless network not working solutions
Faulty Handset?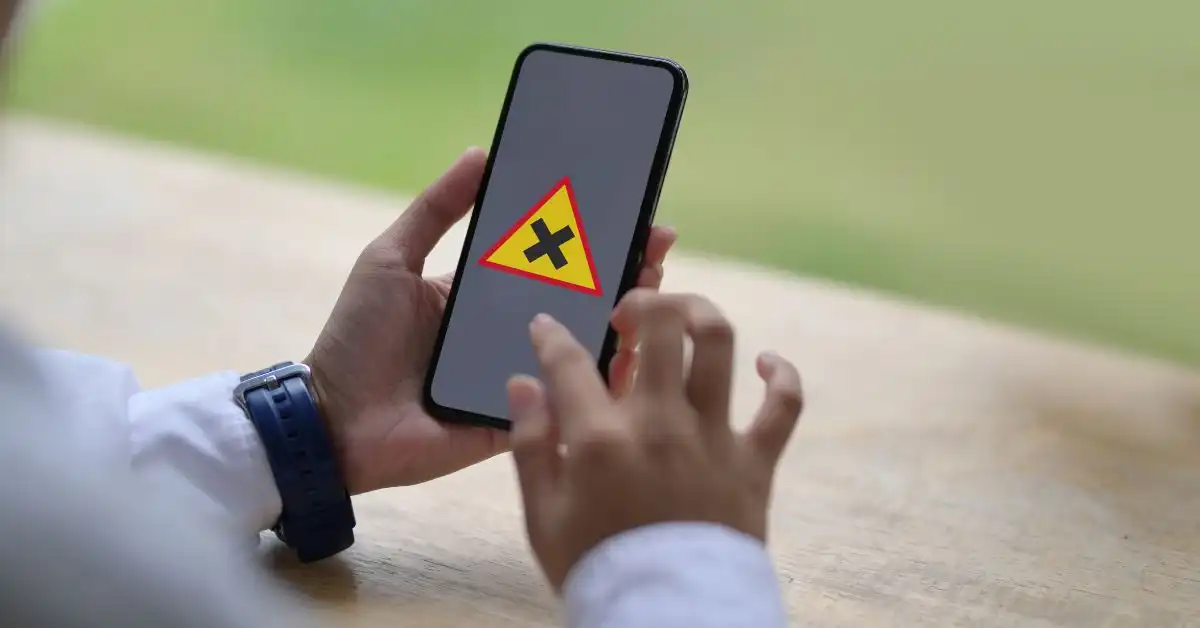 Is your handset working perfectly? most of the time we never focus on the device we are having, just confirm that your handset is working fine or having any technical issues.
The best way to check is to insert some third-party operator's SIM(except the Airtel one you have) to see if you are getting any network signals or not.
If you are still unable to receive any signals having another SIM card, do visit the nearest cell phone service center for a repair, or you can alternatively try any other handset if you have one.
If you have now got the network signals, but are still not able to establish the data connection on your device, then proceed with the next steps further.
Wrong Network Configurations?
(This step is a little bit technical, so please follow it carefully, and to add more details, we have also explained bit by bit in the next section of the article to cover it up fully.)
If you're using the Airtel SIM card on your device for the first time, then it may ask you for some configuration settings(APN settings) to work properly.
Just save the configuration settings you have received and move ahead.
Please keep in mind that, the configuration settings are different for every handset.
That means, if you put the same SIM inside a new handset in the future, you have to reconfigure the settings on that device as well.
If you're using a smartphone, then make sure that you are network search is set to automatic mode instead of manual mode. This way the device will automatically look for the available network signals nearby, and register itself with the valid one.
Don't want to indulge yourself with these technical things? just reset the network settings to ease your job.
Go to Settings > Backup & Reset > Network Settings Reset > Reset settings.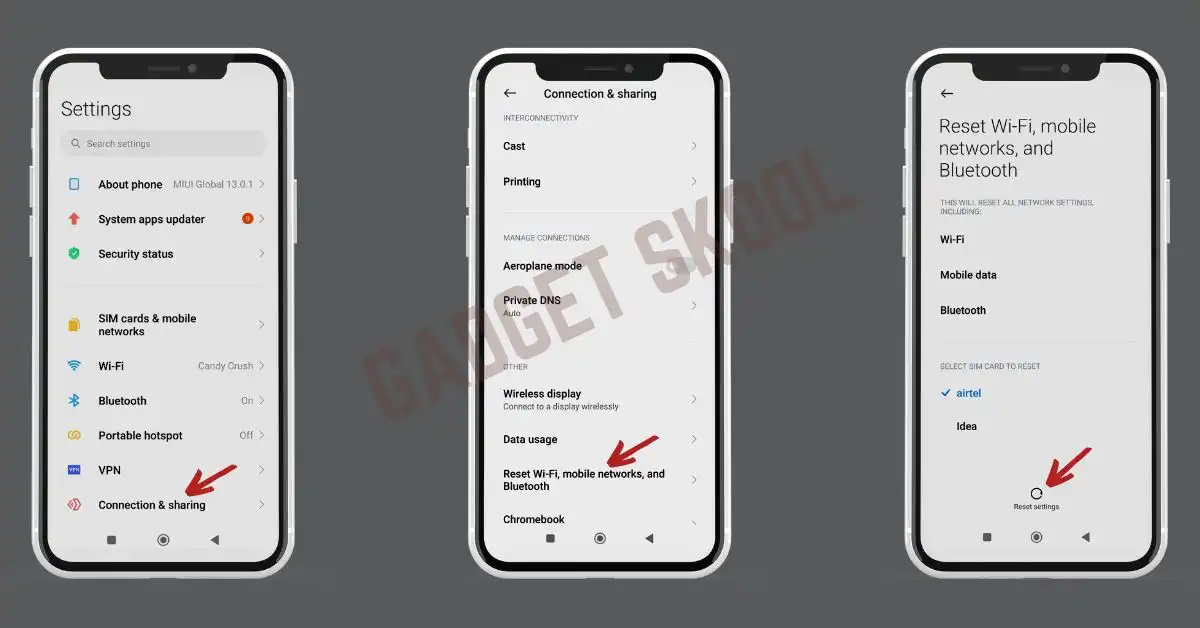 or, Settings > Connection & Sharing > Reset Wi-Fi & Mobile Networks > Reset Settings.
Also figure out that, the network mode is set to the recommended mode(4G/3G) whichever is applicable in your case.
---
Also Read:
---
Steps to follow to properly set up the Airtel SIM card:
Now, you have checked all the possible causes and are now ready to set up your connection along with a working SIM card & working handset as well. If you are not sure about your SIM card condition and need to cross-check the SIM card for errors, then you can check the SIM card troubleshooting guide for a clear understanding further.
Now, follow all the below steps carefully to establish your connection so that you can get all the high-speed network benefits on your device.
Step 1: Open your device SIM card tray, and insert an active Airtel SIM into the slot, if you are planning to access a high-speed data connection, then you must insert the SIM in slot 1(Recommended).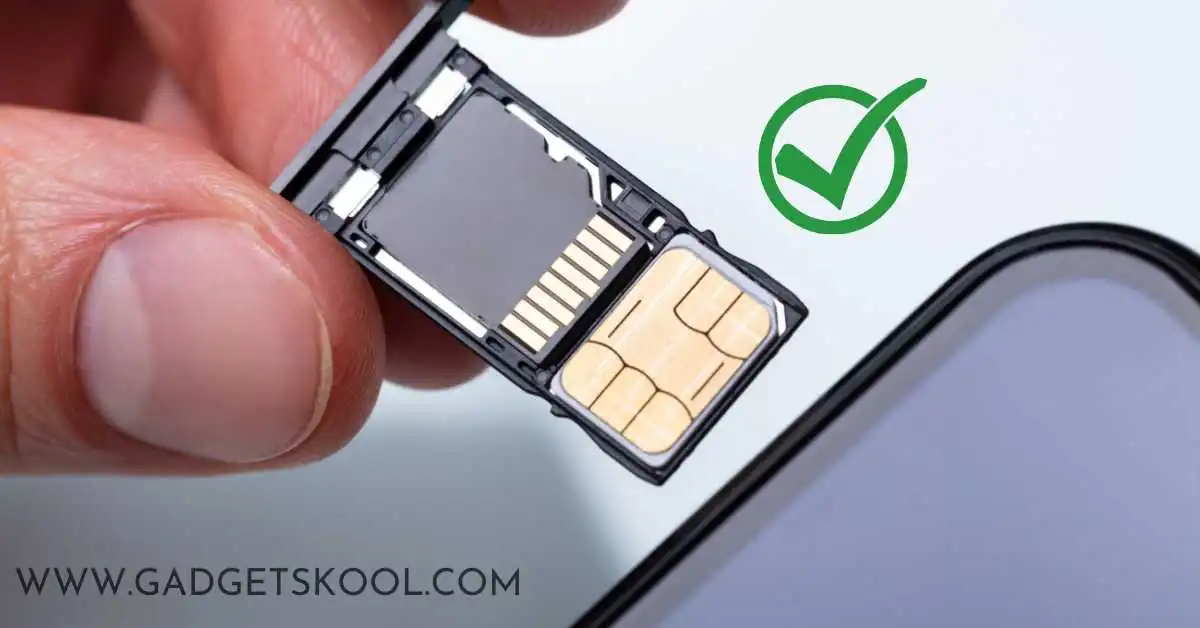 Make sure you are inserting the SIM card in the right manner.
Step 2: Now put the SIM card tray back inside the slot, and turn on your device(if it is already turned on from the beginning, just restart the device).
Now wait for a few seconds while the device is starting up, and ready to use.
Step 3: Move to an open area where there is a chance of good signal strength, and wait for a few seconds with patience.
Step 4: If there are still no signal issues there, try searching with the manual network search mode and wait for the available list of the networks, whenever you find the Airtel or IND Airtel in the list, click on it, and the device will start to register itself automatically.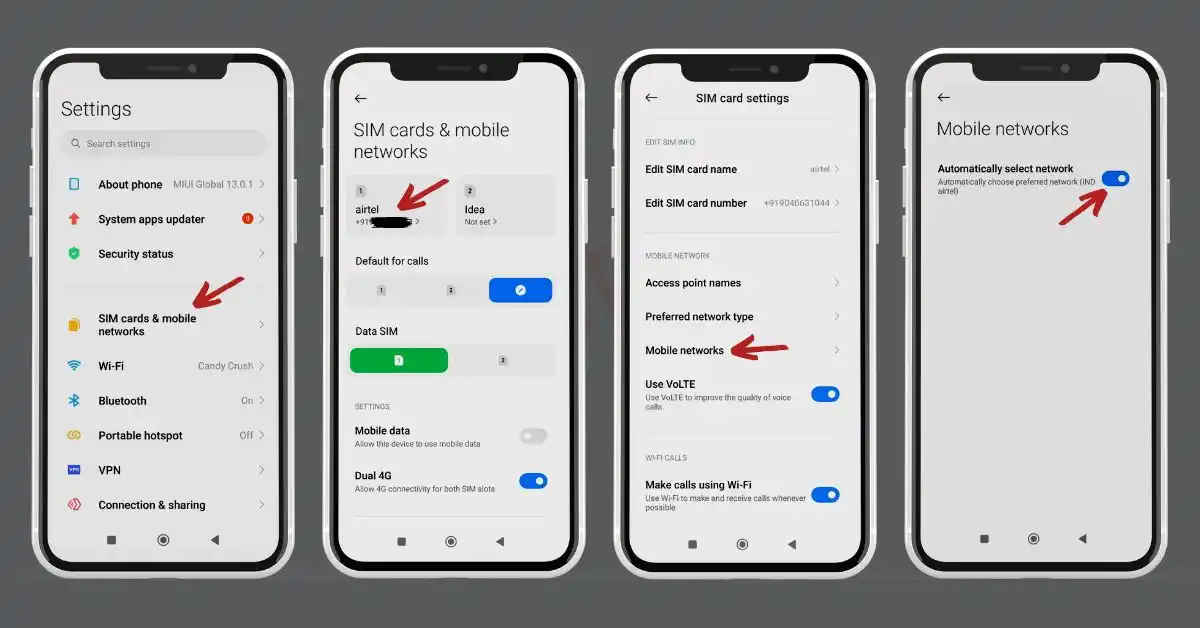 Go to Settings > Network & Internet > Mobile Network > Automatically Select Network (toggle it off for the manual network mode).
Step 5: Update the phone software, if your device has outdated firmware still being used, consider updating the firmware along with the latest security patch for the best results always.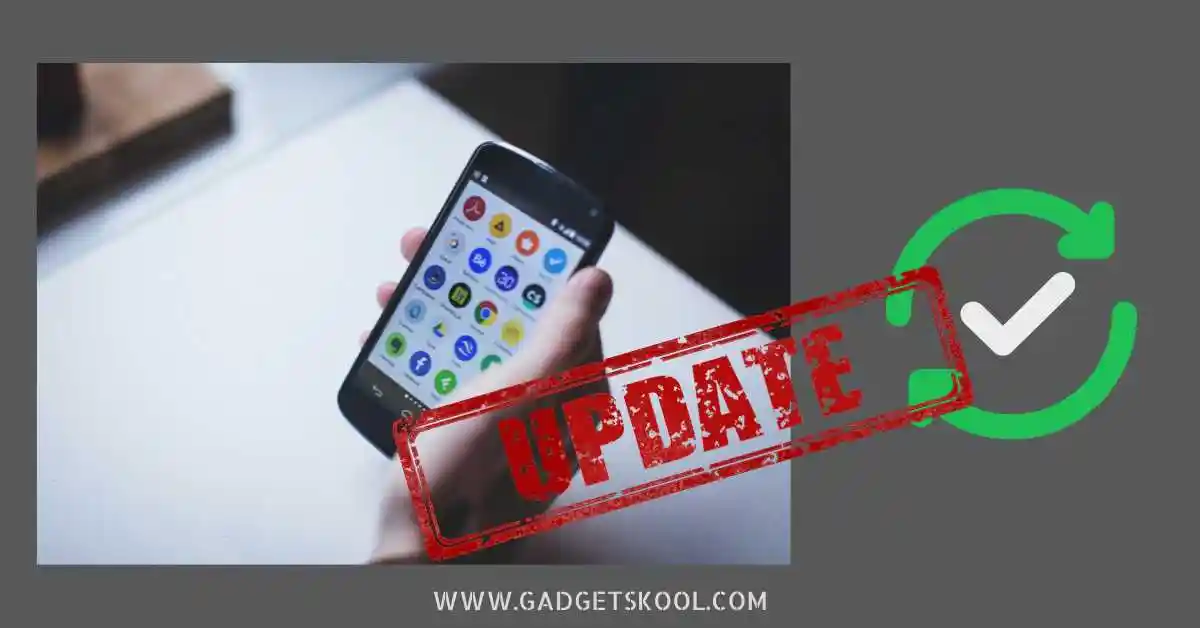 Go to Settings > System > System updates. (update the firmware by connecting your device to the nearest Wi-Fi hotspot).
Step 6: Now install the received settings from the network to configure your mobile data connection, just save the settings and proceed further.
Step 7: From the network settings menu select the 4G mode, if you're using a 4G Compatible handset.
Step 8: Enable the data roaming slider from the Network > Mobile Network > Data Roaming for uninterrupted data connectivity (this step is not mandatory, but you can follow this if you find it effective.)
For now, if you're still not able to get any signals from the nearest Airtel tower, you can contact the customer care portal for the exact solution and know your device status easily.
You can contact the below numbers from any other mobile operators(non-Airtel) easily.
Also Read: How to Fix Jio Network Problems
Airtel Customer Care Numbers (for non-Airtel Users):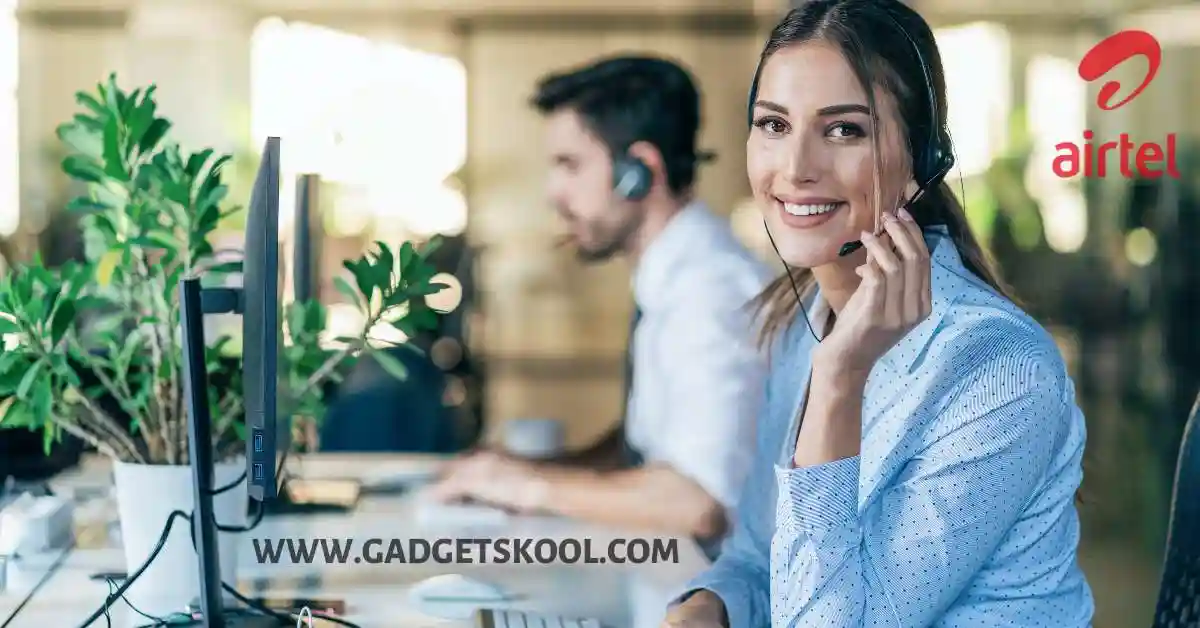 For Both Prepaid & Postpaid Users
| | | |
| --- | --- | --- |
| Circle | Contact No. (for Prepaid Users) | Contact No. (for Postpaid Users) |
| Delhi | 9810198101 | 9810012345 |
| UP East | 9935199351 | 9935012345 |
| UP West | 9897098970 | 9897012345 |
| Punjab | 9815098150 | 9815012345 |
| Haryana | 9896098960 | 9896012345 |
| Himachal Pradesh | 9816098160 | 9816012345 |
| J & K | 9906099060 | 9906012345 |
| Kolkata | 9831098310 | 9831012345 |
| West Bengal | 9933099330 | 9933012345 |
| Bihar | 9934099340 | 9934012345 |
| Shillong | 9862098620 | – |
| Assam | 9954099540 | 9954012345 |
| Odisha(Orissa) | 9937099370 | 9937012345 |
| Kerala | 9895198951 | 9895012345 |
| Karnataka | 9845098450 | 9845012345 |
| Andhra Pradesh | 9849098490 | 9849012345 |
| TN / Chennai | 9894198941 | 9894012345 |
| Madhya Pradesh | 9893098930 | 9893012345 |
| Mumbai | 9892098920 | 9892012345 |
| Maharashtra | 9890098900 | 9890012345 |
| Gujarat | 9898098980 | 9898012345 |
| Rajasthan | 9950099500 | 9829012345 |
Airtel Customer Care Numbers in India
Also Read: How to Unlist a Number from Truecaller
Final Words:
We have covered some of the majorly known issues and their solutions, to find out a way for your problem which we think will definitely help you.
If there are still any issues, you can visit the nearest service center for a go-through process and find an appropriate solution there.
We have written the post, by compiling all the possible solutions to fix your Airtel SIM, not working problem, if you think this article will help others with their problems, then you need to share it now.
Are you having any questions still in your mind? don't forget to comment below.
We will definitely try to solve your queries, and if the article was helpful to find a solution for you, then also mention, which step was effective for you, to overcome the situation so far.
Thank you, and have a great experience. 😉
Also Read: Airtel SIM Not Registered on the Network Error Solutions
Frequently Asked Questions(FAQs):
Why my Airtel SIM is not working?
There might be an issue with your device or network settings that we already covered in this article, please try to figure out that first.
Additionally, you can check the SIM status by putting it into a different phone and observing what's wrong. If the SIM card works perfectly in your new handset, it's time to check your phone properly for misconfigurations.
Why Airtel network suddenly disappeared?
This is a common issue faced by most of the subscribers of any operator you say, there might be some network up-gradation processes being carried out by your local Airtel technical team for better connectivity in the near future.
Just wait for a few hours to get the signal back(it usually takes a few hours to days to complete the process), and if after a few hours, you are still not receiving the signal, look for any nearby Airtel subscribers and gently ask them if they are having the same issue.
Make sure your device settings are perfectly ready to receive the signal, and that you have not misconfigured any settings recently.
Is Airtel having a network problem today?
No, Airtel is not having any sort of network problem, if you are having some issues check this article to ensure your device is perfectly set up to receive the signal.
Additionally, there may be a temporary downtime in your locality for some technical reasons, wait for a few hours to confirm the issue.
Why I am experiencing frequent call drops while using the Airtel operator?
This is one of the major problems of Airtel subscribers, but it mostly depends upon the congestion in the network, trying to place the call again after a few minutes.
You may also experience frequent call drops or divert while placing calls to the JIO subscribers, due to the conflict between Airtel & Jio these routing errors happen usually. Hope it will clear out soon in the future.
Also, if you are trying to place the call inside your home/office premises, try to move to an open area, where you can get better connectivity.
How to Contact Airtel Customer Care?
To contact the Airtel customer support help desk, you can call 121 from your registered Airtel number. They will address your queries faster.
✪ Please Bookmark our website to receive the most useful updates, regularly for free. Press (Ctrl+D) now, to Bookmark instantly. @: gadgetskool.com