Having a foldable big-screen smartphone, or a tablet is everyone's first choice today, most people love to watch their favorite content over the internet on a big screen device.
By targeting such kinds of audiences, companies started manufacturing the big boys in their catalog.
A handful amount of people already switched their preferences towards these wide-screen gadgets and more of them are yet to experience them.
Most people find a little bit difficulties while binge watching some of their interesting shows or a web series, while holding these big devices for a long duration. One can't easily hold it for a long.
For that to provide ease to the user experience, a few companies started launching different types of easily adjustable as well as foldable tablet/smartphone stands, so that you can just put your device on it, and can enjoy the big screen entertainment without any interruptions.
In this article, we have featured some of the top tablet holders, that you can purchase if you actually need one for your home, office, or anywhere you spend a lot of your working hours.
Let's have a look at the list…
Also Check: Best Budget Bluetooth Speakers under 2000 INR
Top 5 Best Adjustable Tablet Stands in India under Rs. 1000:
In this list, we have only mentioned the best quality tablet stands according to our own reviews, research & opinion. There are also other brands available in the market with some cheap quality materials, but you should always stay away from such products.
Most of these products come with top quality materials and a warranty, so find the one that best suits your requirement & lifestyle.
1. AmazonBasics Adjustable Tablet Holder Stand
This product is from a home-owned brand by the renowned eCommerce giant Amazon, so you can easily trust the quality of the product without any worries.
It's a gravity-based tablet holder, which means all you have to do is just put your tablet over it and you're done. No clippings, no springs or brackets attached; it can easily hold almost all the popular tablet models available e.g: Samsung Galaxy Tab, iPad, and Amazon Kindle readers.
It's an extremely portable product and you can carry it anywhere without any hustles, when you fold it, it actually looks and shapes like a stick, so it occupies very little space to store or carry even inside a pocket.
This is a multi angle supported product, hence a good recommendation for all, you will not regret after using this; and also it comes with a price bracket of below 1000 INR, so you can easily afford it.
But if you still have price concerns, then you can go for the GIZGA product which is comparatively cheaper than this one, with the same sort of features almost but obviously, there will be quality issues.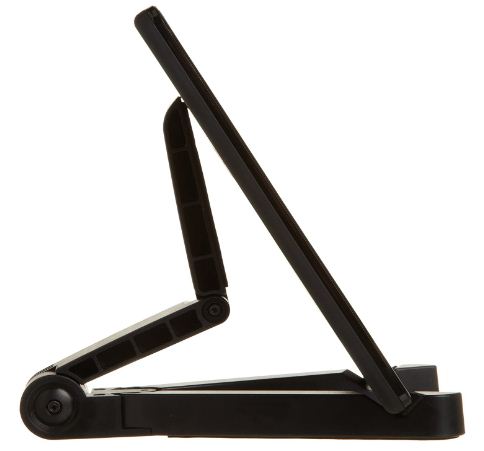 Product Highlights:
Compatible with all the popular tablets (iPad, Galaxy Tab, Kindle)
Extremely portable fits in any bag or pocket
Non-skid based design to keep the stand secure on flat surfaces
Additional USB cable to connect keyboards, mouse or similar accessories
1-year AmazonBasics warranty
2. Xtore Universal Mobile Phone/ Tablet Holder
This product is Amazon India's bestseller in the category, and it actually deserves that. This is a sturdy build quality 360-degree multi directional Tablet holder that is equipped with a very strong and flexible mount head.
As the arm of the tablet holder is build with high-quality Magnesium alloy, then you must ensure that it is unbreakable.
Apart from that, the Flexi arm of this stand can help you to place your device at any convenient angle & distance easily, also it helps kids to protect their eyesight by maintaining the distance from the actual device.
It is easily compatible with all kinds of Tablets, Smartphones & E readers of under 10 inches.
If you want to go for such kinds of tablet holders, then you must prioritize this one, as the other available cheaper products may not deliver you the quality you are looking for, and in the end, you will regret going after a cheaper one.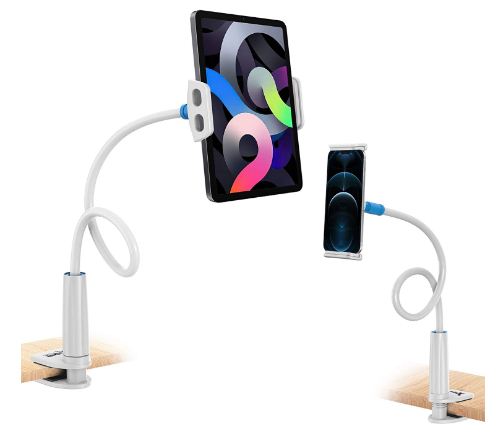 Product Highlights:
Newly designed Lazy mount with a multi-function clip for better grip
Universal holder for tablets/smartphones under 10 inch
Flexible arm for different angle and distance
Robust base with Magnesium alloy arm for better stability
Precise cutout for hassle-free charging while in use
3. Tukzer Foldable Telescopic Tablet Stand
The third one in our list is a tiny super portable tablet stand which is really very easy to carry inside your pocket, this tiny stand is very useful as a tabletop stands for your home & office use.
But if you want to mount your Tablet on your bed for a comfortable viewing experience, then this one is not that useful.
If you are looking for a small tablet holder and your main requirement is to port your device near your PC/laptop over a table in front of you, you should definitely go for it without any confusion.
This is a telescopic stand, which means you can easily adjust the height of the stand for your perfect viewing angle by sliding the upper part, it's too easy to do by pressing the central ripple loop.
This stand can support devices of 8 inches to 11-inch screen size.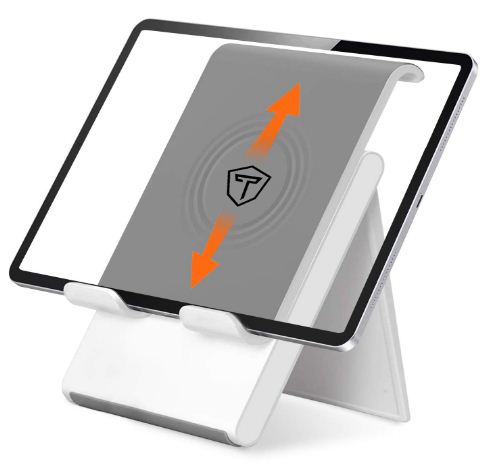 Product Highlights:
Adjustable height & angle for a better viewing angle
Non-slip design pad at the back protects your device from scratches
Premium high-quality ABS & Silicone material sturdy base
Compatible for all Tablets and Mobiles of up to 11 inches
Ultra-thin foldable stand for daily work and travel
Comes with 12 months of warranty
4. Proffisy Adjustable Cell Phone Stand
This product is honestly one of the best-looking phone stands I have ever seen, it is a simple, sturdy & stylish stand that has rubber pads at the base to firmly grip the desk.
If you're looking for a stand for your lengthy binge-watching schedules, webinars, or even online classes then this is the perfect one you are looking for.
The height & tilt adjustment feature makes it more convenient for online video calls and gives you the perfect angle to place your device, without holding it for a long time in your hands.
Now, talking about compatibility, it is universally compatible for all devices from 4-8 inches. The best part of this premium-looking stand is the telescopic height adjustment feature, you just have to pull the stand to adjust your height accordingly. It's very easy to do so.
One of the major drawbacks of this tablet stand is, you can't operate/use your device while it is mounted over the stand, all you need to do is just finish your job and simply place the device over it, then sit & relax.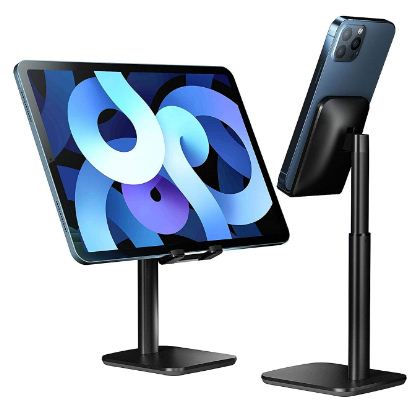 Product Highlights:
Works as an elevator to uplift your device to your eye level for a comfortable view
A high-quality Aluminium alloy arm with a weighted metal base provides you ultra stability
Fully rubber cushion pad to protect your device from scratches
Works as a convenient charging dock on your table
10-45 degree adjustable viewing angle
Universally compatible for all phones & tablets
5. ZAAP Phone/Tablet Stand
The last one on our list is the ZAAP(USA) universal tablet stand with an integrated stylus pen which makes it convenient for your kid's homework, online classes, watching videos, and so on.
This tablet stand provides great back support to your device anywhere you place it, the multi-angle adjustment helps you to tilt your tablet screen to your desired position.
An integrated stylus pen with this stand makes your task more easier by providing you the great touch support.
It is compatible with all tablets and smartphones and also there are four adjustable angles to position your tablet for a better viewing experience.
It is a compact & foldable stand that can be fitted well with any bags, backpacks, or purse for your travel purposes as well.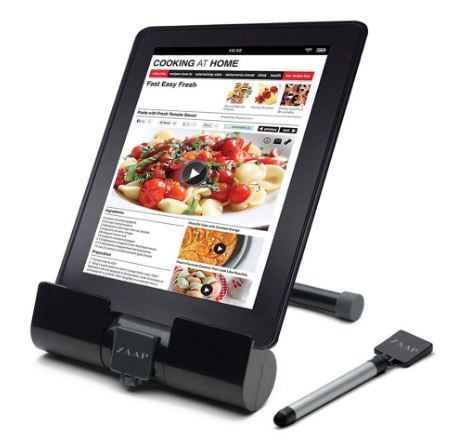 Product Highlights:
Easy & secure way to make your tablet hands free
Compatible with all the popular models(Tablets/Smartphones)
Integrated stylus pen for convenient usage from a distance
Four adjustable angles to position your device vertically & horizontally
Lightweight, foldable and sturdy built quality
Final Words:
As there are a lots of tablet stands you can find from the online stores, we can only suggest you to go for the top 5 stands we mention in this article, as they have good user reviews, better build quality and helps you to place your device securely, if you want to go for some cheaper options, you may not find those that much useful.
If you are spending a huge amount on your tablet need, then you can't ignore such a little price for a good tablet stand to place it securely, without any worries.
Lastly, the decision is completely yours to choose which one you like the most, but if you think this article helped you by getting your right product, you can consider sharing this post with others to help them out.
If you have any further queries, you can leave a comment below.
✪ Please Bookmark our website to receive the most useful updates, regularly for free. Press (Ctrl+D) now, to Bookmark instantly. @: gadgetskool.com