What is JioFi.Local.Html? How to Change JioFi Password? What is the default password of JioFi? How to reset the JioFi router? If you are looking for the answers to these questions, read the article completely to get the answer to all your queries.
If you are a Jio user, then you must be well aware of the JioFi 4G Hotspot. The JioFi hotspot is a pretty good option to access high-speed 4G data wirelessly, this device works as a wireless hotspot and serves an Internet connection to authorized users; the device comes with default credentials(username & password) to access it. But most people find it difficult to change the JioFi password to something different & get stuck with it, this article majorly focuses on guiding you on how to change your JioFi password easily by following some simple steps.
JioFi is a portable WiFi hotspot device for personal use that can work with laptops, mobile phones, tablets, smart TV, and smartphones to access 4G high-speed internet connections. These devices have been provided to users by Reliance Digital which is powered by LYF.
JioFi devices are able to provide high-speed data and also have the capacity to connect 10-30 devices simultaneously at a time. However, the internet speed may decrease if multiple users are using the same router at the same time.
Here, we will present the step-by-step process of how to change the JioFi password and name (SSID). The process will also work if you forgot your JioFi password but don't know how to recover or change the password.
Also, Read:
Quick Steps to Change JioFi Password:
The steps mentioned below are applicable to both PC/Laptop and Smartphone, please follow all the steps correctly to change your JioFi Router password, successfully.
If you want the in-depth step-by-step guide with proper screenshots, you can continue reading the full article; below we have clearly presented all the steps with visual representations.
Connect your device to the JioFi Router.
Open any browser and type > http://jiofi.local.html.
If you are using a Jio dongle, then open jiodongle.local.html in the search bar and click search.
At the top right corner, click on the login button.
Enter 'administrator' as the username and password.
After login, navigate to the 'WiFi settings' which you will find under the 'Settings' tab.
Here, you will get a list with several options including 'Password' and 'SSID Name'.
Choose those options. You can now change the password and SSID name according to your choice.
Once you have done this, click on the 'Save' button.
You have now successfully changed your password and SSID WiFi name.
Now, disconnect all the devices which are connected to your JioFi device router.
You have to again enter the new password to reconnect your devices.
However, the above process is only for the JioFi router, the Jio SIM for mobile has different settings.
Also Read: How to block Jio SIM online
How to Reset the JioFi Password?
Here is the step-by-step process on how to reset your JioFi Password:
To conduct a hard reset for your default settings and configurations, you have to follow one of the below-mentioned steps on your JioFi Router device.
Step 1:
Now, in this step, you have to open the backside case of your actual device, there you will find your device battery, SIM card, and other things like memory card slot, etc.
Look around carefully over there; there you can find a reset button, which is partially invisible and looks like a small hole.
Just use a small pointed tool, to reach the button and press it for at least 10-20 seconds. Now all your JioFi device configurations are factory reset like a new device.
Step 2:
In this step, you don't need to open the back cover of your router. All you can do is press the two buttons(WPS + POWER Button) simultaneously, for at least 20 seconds, and after that, just reboot your device. Now you're done.
All the default settings will be automatically overwritten with your current settings including your old password and SSID name.
Now, if wish to change the password of your choice, then follow the below steps of the article to change your password, by which you can enhance your device security & prevent unauthorized access to your Hotspot connection.
Also Read: How to Order Jio SIM Online
Steps to Change JioFi Password on Mobile Phone/PC(2023):
We recommend you follow all the steps correctly, to conduct a successful password-changing procedure.
This section explains to you all the steps, to change your JioFi Router Password while using a mobile device(smartphone). Although, the same steps are always applicable if you're using a desktop, laptop, or any other similar device.
Also Read: Jio SIM not working: How to Fix?
Switch on Your JioFi router device:
Take your JioFi Device and press the power button for a few seconds, or till the device is on. However, you have to be patient until the router is completely ready for use.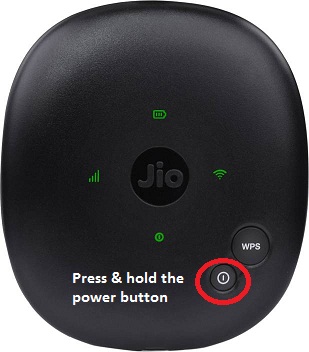 Connect any device to the Router:
Now, it is time to connect either your smartphone or laptop to the JioFi router through WiFi.
If you have not changed the username and password earlier, then you will get a default username and password over the backside of the JioFi packaging box or maybe on the back of the JioFi router.
But, if you have changed your JioFi password previously, then you will have to enter your own password to log in to get internet access.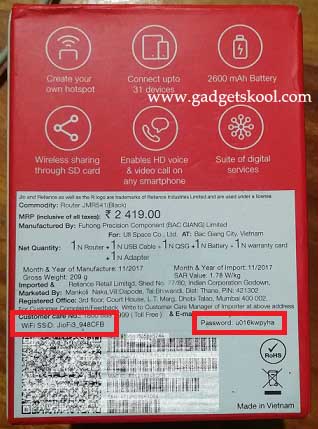 Access the configuration page to manage settings:
Now, it is time to access the configuration page; for which you have to open a web browser and enter http://jiofi.local.html or 'http://192.168.225.1' in the search bar and click on the search option.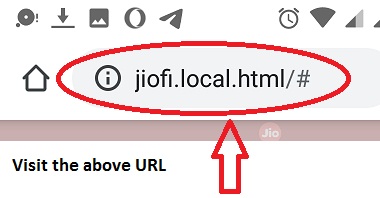 Time to log in to the Settings Page:
After hitting on the URL provided in the above step, you will be landed at the login page. Here, you will find the username and password fields at the top right corner of the page.
Type 'administrator' in both the username and password fields and click the 'Login" option.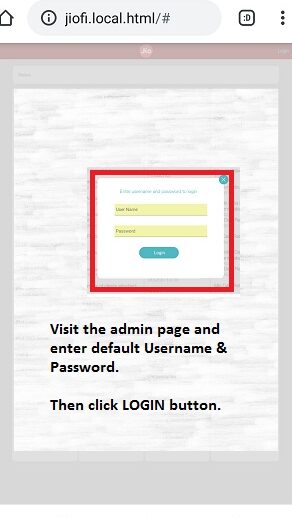 Change Your Password:
To change the password, you must navigate to the 'WiFi' settings. Click on Network>>WiFi Configuration.
You will then see a list of several options such as Channel, Status, Encryption, Password, etc.
Choose the 'Password' and enter the password as per your choice.
You can now change the password and SSID name according to your choice. It is always suggested to choose a very strong one as your JioFi password.
Once you have completed it, click on the 'Save' button. You have now successfully changed your password and SSID WiFi name.
Now, you have to disconnect the Router with all your devices and then again reconnect the devices with your new username and password.
Your router and device are ready to operate with the new Username and Password of your JioFi and your internet is also safe and secure to use.
Also, you will get the high-speed 4G internet connection service with your new login access until you share it with any other person.
Also Read: How To Lock WhatsApp on Android
How to Keep a JioFi Device Secure?
Now, if you are already using JioFi, then there are a few things that you always need to keep in mind and should do to keep your JioFi secure.
It is always necessary to lock your JioFi hotspot device with a strong and secure password to prevent any unwanted connections with your device.
Whether you are sharing it with others or not, you might want to change the password of your JioFi and if you are sharing your Internet connection with others, then you must require changing it every now and then.
The longer the password is in use, there will more likely the chances of compromising.
It is a good idea to share your hotspot only with people you want as you definitely don't want any suspicious third parties or hackers to hook up to your network and create any problems.
You can also customize the name of the network as it is the best option to manage your password and Wi-Fi name to keep it secure.
However, the steps may vary slightly depending on the device you are connected to.
Also Read: How to Fix Airtel SIM Not Working Problem
Final Words:
In this article, we have discussed several working steps to easily change the JioFi password and the various ways to reset it.
I hope this article was helpful to you, if you still getting trouble with your JioFi password change, then please leave a comment below to solve your queries.
Frequently Asked Questions(FAQs):
This section of the article will guide you through the various questions you have in your mind regarding the JioFi Router settings.
How many devices can be connected to a JioFi router?
You can connect a maximum of 10-30 devices to a single JioFi router at once. It depends upon your router version, your network strength & the speed of the Internet service you are getting at your location.
But keep in mind that, the more device you connect with a single router the less Internet speed you will get per device because the connection will be equally shared with each device connected to the hotspot.
Which is the latest version of the JioFi Router available now?
Earlier, there were 4 models of the JioFi 4G Hotspot Router released already, but if you want to buy a new one; then go for the JioFi 5.
It is the most recent version available now. You can easily find it both in any online or offline marketplace.
Can we use Airtel SIM on a JioFi device?
No, you can't use other network operators' SIM cards like Airtel, Vodafone Idea, or any other SIM cards on a JioFi device. Because it's a locked device with high-level security features that work well only with a Jio SIM.
We never recommend you bypass any such security features by implementing some unethical activities. It's not safe for you, and you will end up your device warranty, by doing so.
Why my JioFi Internet Connection speed is slow?
We recommend you try a factory reset for your device(the steps mentioned above in the article) if there seems to be an error with the software settings. Apart from that, try to connect as a minimum number of devices at a time to a single router as you can.
Also, you can put your Router in a place, where there is good network strength.
Do JioFi devices work well with 3G smartphones?
Actually, the JioFi router was made to easily access high-speed 4G network connectivity for a non-4G smartphone. So you can easily connect your 3G device, without any hassle.
Can we connect any other devices to a JioFi Router?
Yes, you can easily connect any Wi-Fi-enabled device to a JioFi Router without any issues.
May it be a Smartphone, Laptop, PC(with Wi-Fi card), Amazon Alexa, Google Home Mini, Wireless Security Cameras, or any such devices you have.
How do I know my JioFi password first?
When you start to use a JioFi device, the SSID & the password are clearly mentioned there on the box packaging. If you don't have the box with you, you can open the backside case of your device, and remove the battery there you will find your device password.
If you have ever changed your default password and don't remember that one, you can easily reset your JioFi device password, as we clearly mentioned all the steps above in the article.
What is the use of the WPS button on a JioFi device?
The WPS stands for Wi-Fi Protected Setup. Where you can share your Internet connection easily with any nearby device, without sharing your Hotspot password for temporary access in need. The WPS is a wireless network security key standard in terms of technology.
To use it, press and hold the WPS button of the JioFi router, connect any mobile with a WPS feature from the settings > Network > Wi-Fi > Wi-Fi Preferences > WPS push Button, and click there, wait for a few moments to discover your device and connect your router wireless.
How to connect JioFi to a laptop?
To connect a JioFi device with a laptop your laptop must have a Wi-Fi card inbuilt(for older models), now you have to connect your laptop by activating the wifi from the control panel to the hotspot, the step is as simple as connecting a mobile device.
Why is JioFi not switching on?
The reason may be due to a battery fault, or the device is completely discharged(out of battery).
To confirm the issue, connect the router device to a charging port for a few minutes, and check again. If there is no change, just replace the battery. Sometimes this problem can be caused due to a faulty charger.
How to hard reset JioFi 4?
To perform a hard reset for JioFi 4 router, simply follow the above steps mentioned, or you can easily do that by opening the back cover of the router, removing the battery if necessary, locating the tiny reset button there, and pressing it for 10-20 seconds with a pointed tool, now your device is completely like a new one. Just reboot and connect to enjoy high-speed internet access.
Can we use the Jio SIM of mobile for the JioFi router?
Yes, you can use any Jio SIM you have, as long as the SIM has validity & an active data pack.
How to connect JioFi to a PC?
You can only be able to connect the JioFi device to a PC if your computer has a wifi receiver card already installed on it. Otherwise, you have to purchase an additional USB Wi-Fi receiver, so that your PC will be able to receive the wireless signal from the hotspot. Most PC doesn't have a prebuilt Wi-Fi module, you can check if your computer already has it to confirm.
How to change the Jio Wi-Fi name(SSID)?
To change the name of a JioFi device(SSID) you have to visit the http://Jiofi.local.html admin panel and log in. After that just click on the Network tab > Wi-Fi configuration > Network name > Change the desired name > Click the Save button.
How to find the JioFi Password?
If you have recently purchased a new router, check the original box package for the password and user ID, if there is nothing found, open the back panel of the router and remove the battery, there you will find the details.
How to manage the JioFi device?
To manage the details of any JioFi device username, password, network name, connection details, etc. you need to log in to the Jiofi.local.html admin dashboard.
What is the Jiofi.local.html?
The jiofi.local.html is the Jiofi settings page, known as the admin dashboard/ control panel of a JioFi router, where you can manage all the settings for any specific device easily.
What is the default password of JioFi?
There is no actual default password for all JioFi devices, each device has a specific password that is totally different from other devices. If you are willing to know the default password of the jiofi.local.html dashboard for device management; the default password to log in is:
Username: administrator Password: administrator
Try to log in with these credentials and see if that works for you.
Stay Connected 🙂
✪ Please Bookmark our website to receive the most useful updates, regularly for free. Press (Ctrl+D) now, to Bookmark instantly. @: gadgetskool.com