Gifting is really a beautiful art that passes lots of love, affections and respects towards others. It does not matter whether you are gifting to your loved or nearest one or to your friends and families, the happiness that you will get from them is countless. Now, while thinking of gifting to women, there are lots of things that you need to consider. Some girls like to do shopping for her dresses, some for shoes and make-ups and some may like electronic gadgets as well. However, previously gifting gadgets mainly to women were not present in the lists of gifts but today they might seem to be on the top of the charts.
How gifting Gadgets to Women Can Be a Smart Choice ?
Are you looking to do shopping for a gadget obsessed friend or family mainly who is women? Technology is supposed to make your life easier not harder and thus Tech gifts are one of the most popular and preferred gifts out there. You will be surprised to learn that there are plenty of gadgets which will be within your budget and truly make your life easier and a little better without breaking the bank. These gadget gifts seem to hold the widening dimensions of a modern woman and they would also feel very special in this modern age.
But the most important thing to be considered while picking gadget gifts for women is that it must be convenience. Women always love to be stylish, modern and comfortable. So, if you are picking any gadgets whether it is travelling, beauty, relaxing or anything, if the gadget is not providing comfort to her, then it would become worthless. Style and function would always be the top of mind in such case.
Some Cool and Best Gadgets for Women :-
Starting from mini battery that will keep the phone running all day to a device which keeps tabs on your keys, all these products can be the best gifts with small investments. We have kept in mind about the budget and share some affordable new tech gadgets for women who have to have the latest technology first. From the latest in wearable tech to the best designer phone cases and head phones, these are the most stylish gadgets to give to women whether it is her birthday, anniversary, any special occasion or you just want to make her surprise.
1. Fitbit Flex 2 Bangle: This is a beautiful bangle that would definitely become a clip in her wardrobe. This Fitbit Flex 2 Bangle is an activity tracker but it is not easy to get that from its appearance. It has the function of tracking as well as phone notifications like Flex 2 in a delicate shape. So, transform your tracker into jewelry with this elegant accessory. This is a hand polished bangle which can be fit for your work or any other occasion.
Features:
Fine jewelry pieces that is smart enough to wear in working area and stylish enough for the wedding occasions.
Delicate and durable with stainless steel.
Elegant and slim figures which is fit for any style of dressing.
Can be easily fit into 6.3 inch to 6.5 inch wrist. But please be very careful when you replace your tracker into the bangle. Don't expose the bangle to sweat or water frequently or wipe it out clean after that.
2. Mobile Charging Purse:Women today love to work and many of the women are already working in technology field. So, for the tech savvy women those who are carrying mobile phone, there would be nothing convenient than mobile purse which can carry mobile phone, money, ATM cards etc. As she needs to do is to plug her mobile phone on the charging cable and let her phone charged inside her purse in style. After all carrying power banks all the time might be tricky.
Features:
Include 2 straps to be used as a wristlet or cross-body.
Includes multiple tips for multiple phones – Androids and iPhones.
Interiors also include credit card slots, ID holders, and money space as well as zipper pocket too.
Sleek new charger design is about the size of the credit card.
2500 mAh, charge your phone while on the go.

3. Happy Plugs Earpiece Wireless: Headphone jack are going to disappear from phones quickly and thus wireless headphones are a must. The Happy Plugs Earpiece Wireless is the excellent pair for such things. It can work for both calls and music and when it is not in work, your women can knot it around the neck like a piece of neck jewelry.
Features:
Build-in mic and remote
Wireless: Twist free experience with Bluetooth 4.1
Battery backup is good with minimum 5 hours of music
Can work with all type of Bluetooth enabled phones and Tablets
4. A Wide View Sensor Mirror:Most of the women whether she is working lady or home maker, go through the crazy race of mornings where they hardly get extra time to spend. The regular mirrors are not at all always perfect to do the morning makeup to check the winged eye liner or may be the perfect compact under the eyes. Wide-View sensor mirror solves all such problems.
Features:
Tru-lux light system that closely simulates natural sunlight – two times as brighter and more colour correct than the next best.
Sensor On-Off system with the automatically light off and on as per your face approaches.
Cordless and rechargeable – one charge can last up to 3 weeks.
Long lasting surgical grade LEDs.
It has wide-viewing area with side folding panels that can give you a great view at any angle (where no magnification needed).
5. Stelle Audio Go-Go Speaker: Stelle Audio Go-Go can be strapped to strollers, bikes or anything that you think of, while Bluetooth wireless connectivity streams music from your phone and your woman can just looped this around her wrist. It has an eight hour battery life means it can get her through almost the whole day without getting to be recharged. Soundtrack the daily activities of your women in style. It is one of the practical yet stylish gifts for your lady.
Features:
Made with thermoplastic urethane and plastic with soft touch finish.
Compatible with any Bluetooth enabled device.
BPA, lead and phthalate free.
Include accessories of 18" USB Type A to USB Micro charging cable, hanging strap, detachable universal mounting bracket and AUX cable.
8 hours rechargeable battery included.
Safe to use for indoor and outdoor both.
6. New Kindle E- Reader – White, 6" Glare-Free Touch Screen Display:Whether you are bookworm or not, we all have to go through some unavoidable reading either for work or to know something or to capture some knowledge. An e-reader can save her eyes from the unnecessary strained caused by the usual screens of our electronic devices through e-readers. E-readers will give relief to the eyes and they will also help your lady to carrying the heavy novel in hands or purse.
Features:
All new designs are thinner and lighter and are now available as per your choice of black and white.
Single battery charge can last weeks.
Easy on your eyes – The facilities of touch screen display in this New Kindle E-Reader will read like real paper content. While reading even in bright sunlight, you would not get any screen glare.
Can able to hold thousands of books.
7. Amazon Echo Dot: This is one of the great gadgets to gift to your women. She does not need to worry about being heard with the Amazon Echo Dot. Alexa can read the news loudly, call Uber, play her favorite songs, able to add items to her Amazon shopping lists or even can able to control your smart phones.
Features:
Echo Dot is a voice controlled speaker that is used for Alexa to play music, make calls, control smart home, set timers, answer questions and alarms and more.
Can call or message to the family, friends hands-free or drop in from the Alexa App to your Echo device.
Play music from Amazon Music, Pandora, Spotify, Tuneln, iHeartRadio and SirusXM.
Controls lights, thermostats, locks and more with compatible connected devices.
30,000+ skills including Lyft, Audible, Jeopardy and Dominos. You can able to get smarter and new featured gadget.
Use built in speaker or for bigger sound, can able to connect to speakers through Audio Cable or Bluetooth.
Can bale to hear you from across the room with 7 far field microphones for hands-free control, even in noisy environments or while playing music.
8. Smart Watch: Another stylish and essential things for women, but while picking a smart watch is a little tricky. Smart watches have a very technical and cliched look that may don't go with all types of woman's dress up. So, if you are willing to give this cool gadget to your woman, you must make sure that you should find a piece that will compliments with her personality. It is suggested to pick a sleek and light piece and avoid going to heavy models. There are various types of smart watches available in the market for men and women both, So, choose the smart watch smartly.
Features:
Smart watches can combine all the functions that you need with a stylish watch that is affordable for all and can easily work with android and iPhone and iOs devices. Listen music, call, receives social media notifications and more, you can always stay connected with smart watch.
If your lady has a habit of misplacing the phone, then anti-theft feature of smart watch would help you. In fact, some watches can started beef to give you alert after going the distance of 10 meters that your phone is not with you.
For every person, it is important to stay hydrated at all times irrespective of weather. There are some smart watches which come with the feature that reminds you to consume water at regular intervals to keep you hydrated.
Some of smart watches have the remote photo function. If you have any Android and iOS phone then you can use the Photo function to take photos using the watches.
Your fitness activities, step counts, sleeping patterns are important part that the smart watch can track. Smart watches come with the facilities of sleep monitor, sedentary reminder and pedometer.
9. Microsoft Universal Foldable Keyboard: This would be perfect for those women with a lengthy commute, these compact, foldable keyboards can maximize the extra moments. It can add hours of extra productivity, catching up the returning messages or writing a memo – back to the day. This rechargeable keyboard is compatible with iPad, Android, iPhone as well as for Windows Tablets and phones.
Features:
This Universal Foldable Keyboard was designed in such a way so that it can work with iPad, Android, iPhone, Windows Phone and Tablets as well.
Clutter-free and reliable experience utilizing the latest in Bluetooth 4.0 technology by consuming less power.
Only 5mm thin, light weight, innovative and foldable design can easily fits into a bag, purse or even pocket.
The full size keyset provides fast and accurate typing.
The built-in rechargeable battery provides up to three months of usage with just a single charge.
10. Sonic Makeup Brush: Now, here it comes the most beautiful and useful gift for the women. This is the place where most of the women fight to make her fresh and beautiful. It is not possible for the ladies for every morning, evenings and afternoons to bend the makeup well as it took lots of extra times. This is an advantage for all such times. A Sonic Makeup brush with automated blending and filing lines on the skin, is the cool gadget for a modern woman on her life.
Features:
A rechargeable makeup brush based off patented technology which fills flaws without clumping makeup.
Antimicrobial sonic makeup brush with LIFE protection which reduces bacteria formation which is mostly grow in the brush heads between use of 99%.
Faster cosmetic application that will help you to use less makeup for a more youthful radiant look.
Each bristle swings in the Sonic movements at up to 424 times per second which is 25,440 per minute.
Easy to use with liquid, powder and cream based makeup.
Detachable brush head allows for ease of cleaning.
Comes with Travel case and includes on Sonic blend rechargeable handle, a USB charging cord and one antimicrobial universal round top makeup brush head.
11. The Liveliest Speaker: Do you know that your woman is loved to listen music? Then this would be the right choice for her. The wireless Bluetooth Speaker with excellent sound, multi coloured LEDs that flash and bounce to the music. It is perfectly portable for every activity whether you are sitting on the couch and taking rest or hanging out with friends outside or going to any camping etc.
Features:
6000 mAh Built in rechargeable Li-on battery supports up to 10 hours of playtime with music and light show.
Take calls from your speaker with just a touch of a button i.e. speaker phone.
Wireless Bluetooth streaming.
Splashproof, JBL Connect.
JBL Prism, JBL Bass Radiator and JBL Connect App available.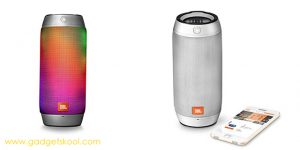 12. HP Sprocket Photo Printer: Most of the ladies love to click pictures, selfies of their own or with their partners through their mobile phone. But it is really very sad to see that every moment that we captured today, is only placed in the digital electronics items that is either in phone or in laptop or uploading in social media accounts. But what about to make it memories? Capturing beautiful moment and making an album is really a nice way. Thus, gifting a HP Sprocket Photo Printer would be a great gadget for a woman. So, make the most out of your HP Sprocket by adding paper, a stylish wallet or a photo album. Single users, families and others who want the latest printing features for professional documents, lab quality photos, web pages and more can easily get at home.
Features:
Print photos directly from your smart phone or Tablet. Required Android: 4.4 and higher and iOS: 8.0 and higher.
Bluetooth Connectivity facility.
Portable – almost the size of your cell phone, weighing around 6 ounces or 170 grams.
Zink Zero Link Technology.
Easily load the included 10 sheet pack and able to print instant 2×3 inch photos.
Download the free HP Sprocket App to customize the photos before you print.
We hope you like the above post on Best Gadgets for Women , if you love to share this post with others, then it will be a great contribution towards us. Any questions / Suggestions or Feedback ? leave us a comment below.
Also Read :