✪ Please Bookmark our website to receive the most useful updates, regularly for free. Press (Ctrl+D) now, to Bookmark instantly. @: gadgetskool.com
Gifting is a really beautiful art that passes lots of love, affection, and respect toward others.
It does not matter whether you are gifting to your loved or nearest one or to your friends and families, the happiness that you will get from them is countless.
Now, while thinking of gifting to women, there are lots of things that you need to consider. Some girls like to do the shopping for their dresses, some for shoes and make-up and some may like electronic gadgets as well.
However, previously gifting gadgets mainly to women was not present in the lists of gifts but today they might seem to be on the top of the charts.
Also Read: Best Gadgets for College Students
Some Cool and Best Gadgets for Women:
Starting from the mini battery that will keep the phone running all day to a device that keeps tabs on your keys, all these products can be the best gifts with small investments.
We have kept in mind the budget and shared some affordable new tech gadgets for women who have to have the latest technology first.
From the latest in wearable tech to the best designer phone cases and headphones, these are the most stylish gadgets to give to women whether it is her birthday, anniversary, any special occasion or you just want to make her a surprise.
1. Fitbit Flex 2 Fitness Wristband
This is a beautiful Wristband cum fitness activity tracker that would definitely become a clip in her wardrobe. This Fitbit Flex 2 wireless wristband is an activity tracker but it is not easy to get that from its appearance.
It has the functions of tracking as well as phone notifications like Flex 2 in a delicate shape.
So, transform your tracker into a stylish wristband with this elegant accessory, which can be fit for your work or any other occasion.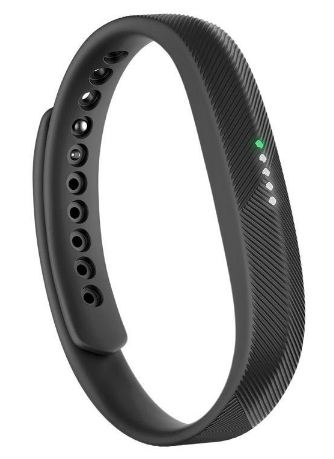 Features of Fitbit Flex 2 Wireless Activity Tracker:
An ultra-thin stylish tracker inside a wristband to monitor everyday activity such as sleep, activity, steps count, calories burned easily
Easily hides in bands, pendants & bangles
Swim proof for tracking the swimming activities inside the water
Automatically track your sleep patterns/ time and set an alarm silently with a small vibration
The Smart Track automatically recognizes the activity type and keeps track of records using the Fitbit app
Quick call & text notifications alert with unique vibration patterns and colorful LED lights indication
| | |
| --- | --- |
| | Call & text notifications |
---
Also Read: Best COVID Safety Devices for Home
---
2. URBN 20000mAh 12W Fast-charging Powerbank
Women today love to work and many of the women are already working in the technology field.
So, for the tech-savvy women who are carrying a mobile phone, there would be nothing more convenient than a power bank that can charge up a mobile phone while on a commute.
What she needs to do is to plug her mobile phone using the charging cable and let her phone charge inside her purse in style.
After all, carrying a power bank all the time while you're outside of your home is actually important, cause you have no idea when your phone will drain the battery completely and you might lose your communication.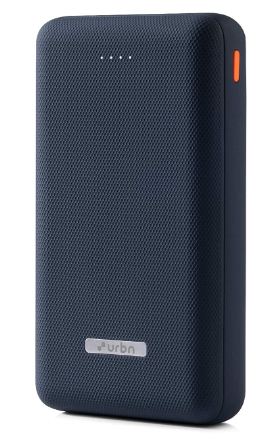 Features of URBN 20000mAh Li-Polymer Fast-charge compact Power bank:
Stylish, compact & small in size with a long battery life
20000 mAh Li-Polymer battery with a fast-charge support
Dual USB output to connect two devices simultaneously
The compact body along with a smooth touch finish gives it a premium look
BIS certified & comes with a 1 year of warranty
Universally compatible with the dual input ports(Micro USB/Type-C)
Protection against over-voltage, over current, and short-circuit
| | |
| --- | --- |
| | |
---
3. Noise Shots X5 PRO Bluetooth Earbuds:
Headphone jacks are being disappeared from today's smartphone models and thus wireless earbuds are a must.
A pair of wireless Bluetooth earbuds are an excellent choice for such scenarios.
It can work for both calls and music and when it is not at work, she can simply wear these like a piece of jewelry & also these look stylish.
The audio output from the new generation's wireless earbuds is truly immersive with rich bass and most of those come with a 3D surround sound TWS experience, which will level up your music listening experience.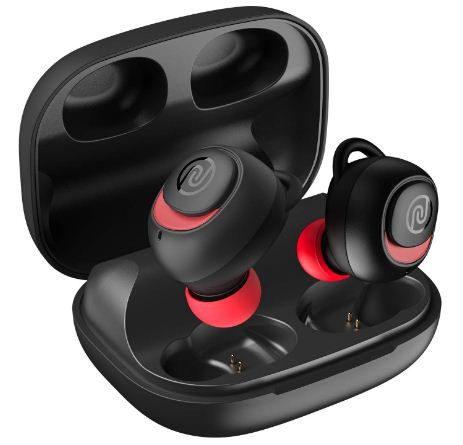 Features of Noise Shots X5 PRO Wireless Earbuds:
Powered with revolutionary Graphene speaker drivers with advanced Qualcomm AptX and AAC codec support
In-built power bank with a 2200 mAh charging case that provides the reverse charging function, you can even charge your phone from it
Around 150 Hrs of playback time with a single charge
Fully touch-controlled playback, volume adjustment, phone call management, and voice assistant with a single tap
Provides USB type-C charging, so that you can charge your phone and earbuds with the same charger
Ergonomic shape design for better comfort & more secure fit
IPX7 waterproofing lets you enjoy the music even in the rain without worrying about any damages
Hi-Fi audio output with rich bass and TWS support
Comes with a 1 year of warranty
| | |
| --- | --- |
| | |
---
4. Kelexx Folding LED Light Rotating Mirror:
Most women, whether she is a working ladies or homemakers, go through the crazy race of mornings where they hardly get extra time to spend.
The regular mirrors are not at all always perfect to do the morning makeup to check the winged eyeliner or maybe the perfect compact under the eyes. LED light magnifying mirror solves all such problems.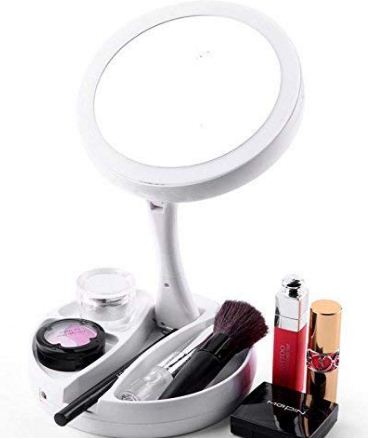 Features of Kelexx Folding Round LED Light Rotating Mirror:
Stylish, double-sided mirror with 1x and 10x magnification
Bright LED ring lights at the edge for a better glowing view in the dark
Small in size, Fold-able & easy to carry anywhere
Easily power up with 4 *AA-size batteries or even with a USB cable
Compact storage box for storing jewelry or other make-up stuff
High-quality glass mirror, built with an ABS plastic frame
| | |
| --- | --- |
| | Makeup mirror with LED lights |
---
5. Flintstop Splash Bluetooth Portable Speaker
Flintstop Splash can be strapped to strollers, bikes, or anything that you think of, while the Bluetooth wireless connectivity streams music from your phone, and your woman can just loop this around her wrist.
It has a long battery life means it can get her through almost the whole day without getting to be recharged.
Soundtrack the daily activities of your women in style. It is one of the practical yet stylish gifts for your lady.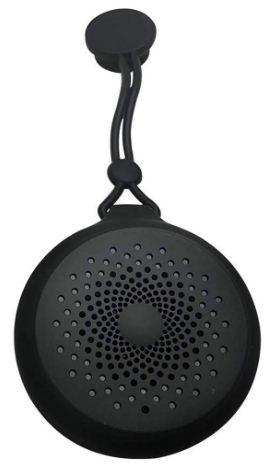 Features of Flintstop Splash Bluetooth Portable Speaker:
Unique, round design, stylish Bluetooth speaker with a lanyard design to easily hang the speaker in your shower
Innovative suction cup design helps you to easily mount the speaker on a table, wall, or any flat surface
3W RMS, wide-audio output for better coverage along with hands-free calling feature
A perfect companion for all types of outdoor activities e.g: camping, hiking, cycling, traveling, etc.
Easy to carry and small in shape
Bluetooth portable speaker

Stylish, Hands-free calling
---
Also Read: Best Budget Bluetooth Speakers Under 2000 INR
---
6. Amazon Kindle E-book Reader
Whether you are a bookworm or not, we all have to go through some unavoidable reading either for work or to know something, or to capture some knowledge.
An e-reader can save her eyes from the unnecessary strain caused by the usual screens emitting Bluelight rays of our electronic devices through e-readers.
E-readers will give relief to the eyes by filtering the Bluelights and they will also help your lady to carry the heavy novel/books in her hands or purse.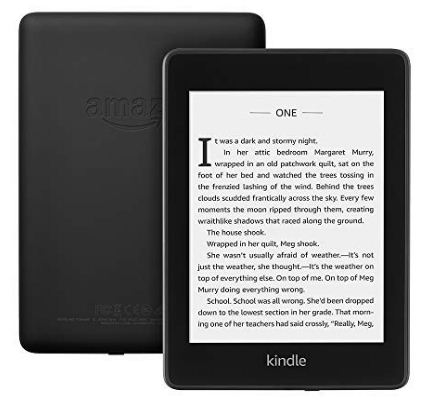 Features of Amazon Kindle Paperwhite 10th Gen Wi-Fi:
The thinnest & lightest paperwhite kindle with a 300 PPI (6inches) Glare-free display
An easy reading experience like real paper even in bright sunlight
Storage space of up to 8GB to store thousands of ebooks
IPX8 rated Waterproof device, so you can enjoy the reading even in the shower, pool, or at the beach
A single battery charge lasts for weeks
Built-in adjustable light lets you read without any distractions even in bright sunlight or indoor light conditions
Wi-Fi and 4G connectivity options to access unlimited books
| | |
| --- | --- |
| | Thinnest & Lightest kindle with glare-free display |
---
7. Amazon Echo 4th Gen. Smart Speaker with Alexa
This is one of the great gadgets to gift to your women. She does not need to worry about being heard with the Amazon Echo 4th Gen.
Alexa can read the news loudly, call Uber, play her favorite songs, able to add items to her Amazon shopping lists or even can able to control her smartphone and smart devices.
Echo is a voice-controlled speaker powered by an Alexa voice assistant to play music, make calls, control smart homes, set timers, answer questions and alarms, and more.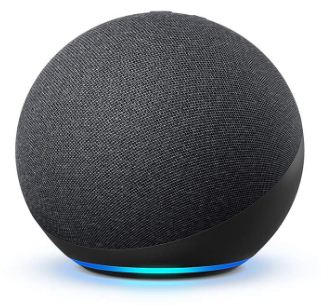 Features of Echo 4th Gen Smart Speaker:
The all-new Echo delivers premium sound powered by Dolby with a deep and rich bass
Stream & access the millions of songs for free with any regional language from online music streaming sites e.g: JioSaavn, Gaana, Spotify, Prime music, etc
Use Alexa voice assistant to control any smartphone, Smart TV, Ac, Geyser, or any other smart device easily
4 unidirectional microphones to hear the requests from any corner of the room
Keeps you updated with the latest news, trivia, scores, weather conditions, Alarm
The stylish yet colorful LED light ring at the bottom for an exceptional premium experience
Premium sound powered by Dolby

Make your home smart with Alexa voice control

With 4 microphones access your smart device with voice command from any corner
---
8. Amazfit Bip U Smart Watch with SpO2 & Stress Monitor
Another stylish and essential thing for women, but picking the right smartwatch is a little tricky. Smartwatches have a very technical and cliched look that may don't go with all types of woman's dress-up.
So, if you are willing to gift this cool gadget to your woman, you must make sure that you should find a piece that will complement her personality. It is suggested to pick a sleek and light piece and avoid going to heavy models.
There are various types of smartwatches available in the market for both men and women both, So, choose the smartwatch smartly.
Smartwatches can combine all the functions that you need with a stylish watch that is affordable for all and can easily work with android and iOs devices.
Listen to music, answer a call, receive social media notifications, and more, you can always stay connected with a smartwatch for your daily activities.
Your fitness activities, step counts, and sleeping patterns are important parts that the smartwatch can track. Smartwatches come with the facilities of a sleep monitor, sedentary reminder, and pedometer.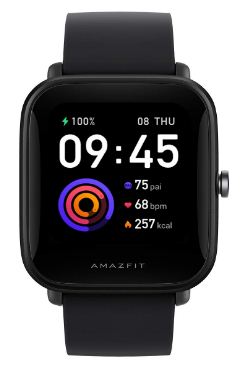 Features of Amazfit Bip U Smartwatch with SpO2 & Stress Monitor:
1.43″ large color touch screen with Corning Gorilla 3 reinforced glass
Advanced Blood-oxygen(SpO2) level measurement
Heart rate and PAI health assessment system monitoring
Stress monitoring with breathing training features
5 ATM water resistance with 60+ sports modes
Alarm clock, weather forecast, smartphone music, and camera control
50+ downloadable watch faces with a 9 days battery life
Smart notifications for incoming call & text

SpO2, PAI, Heart rate monitoring

5 ATM water resistance with 60+ sorts modes
---
9. Portronics Foldable QWERTY Keyboard
This would be a perfect gift for women with a lengthy commute, these compact, foldable keyboards can maximize the extra moments.
It can add hours of extra productivity, catching up on the returning messages or writing a memo – back to the day.
This rechargeable keyboard is compatible with iPad, Android, iPhones as well as Windows Tablets and phones.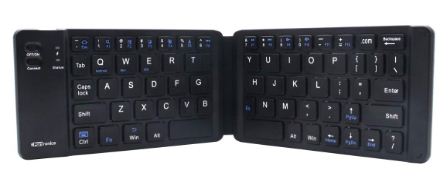 Features of Portronics POR-973 Foldable QWERTY Keyboard:
A light-weight, fold-able, and compact keyboard for your perfect digital companion
QWERTY keyboard layout for the perfect typing experience
Large keys ensure no mistyping when in use
Easy to pair with Mobiles, Tablets, and iPads via the Bluetooth connectivity option
Easy to pair with no additional setup required for instant use
An efficient built-in rechargeable battery provides a long playtime of around 140 hours on a single charge
Compatible with all major Operating Systems Android, iOS, Windows
Sturdy high-quality ABS plastic body with silent keystrokes for smoother performance
Lightweight, foldable, wireless keyboard

Easy to pair with iPad, Mobile & tablets via Bluetooth

Supports Windows/Android/iOS
---
10. HealthSense Pure-Skin Facial Cleansing Brush
Now, here comes the most beautiful and useful gift for women.
This is the place where most women fight to make themselves fresh and beautiful.
It is not possible for the ladies every morning, evening, and afternoon to blend the makeup well or cleanse their faces as it took lots of extra time.
This is an advantage for all such times. A facial cleansing brush with an automated cleansing system on the skin is a cool gadget for a modern woman in her life.
Features of HealthSense Pure-Skin FB 09 Facial Cleansing Brush:
360 Degree spin-technology with high-frequency rotation ensures deep cleansing of facial skin
4X more effective than other facial cleansing scrubs
IPX7 waterproof design helps to use it worry-free even in the shower
2 rotation speeds to choose the best one for her skin needs
Comes with 2 brush heads for normal and deep cleansing usage
1 year of service warranty ensures the product's authenticity
Battery operated and easy to carry anywhere while on a travel
Multifunctional face massager with 4 interchangeable heads

Cordless, Battery-operated & portable

Suitable for daily use for all skin types
---
11. Fujifilm Instax Mini Link Smartphone Printer
Most of the ladies love to click pictures/selfies of their own or with their partners through their mobile phones.
But it is really very sad to see that every moment that we captured today, is only placed in the digital electronics items that are either on a phone or on a laptop or we just end up uploading in social media accounts.
But what about making memories? Capturing the beautiful moments and making an album is really a nice way to enjoy the moments instantly.
Thus, gifting an Instax mini smartphone Photo Printer would be a great gadget for a woman.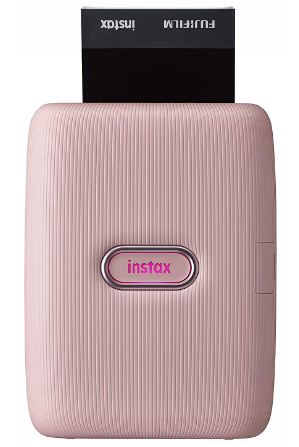 Features of Fujifilm Instax Mini Link Smartphone Printer:
Easily edit and print photos from your smartphone anywhere
27 fun frame designs to add to your photos for a different style
14 different collage styles to add to your photos for more stylish looks
Requires approx. 80-120 mins, of charging time
Easily connect your smartphone with the Bluetooth connectivity option
Multiple color options available to fit your style
Easily edit & print photos from your Smartphone

Print your favorite frame from a video

Connect any Smartphone instantly, and manage with the free instax app
How gifting Gadgets to Women Can Be a Smart Choice?
Are you looking to do the shopping for a gadget-obsessed friend or family mainly who is a woman?
Technology is supposed to make your life easier not harder and thus Tech gifts are one of the most popular and preferred gifts out there today.
You will be surprised to learn that there are plenty of gadgets that will be within your budget, and truly make your life easier and a little better without breaking the bank.
These gadget gifts seem to hold the widening dimensions of a modern woman and they would also feel very special in this modern age.
But the most important thing to be considered while picking such gadget gifts for a woman is that they must be convenient.
Women always love to be stylish, modern, and comfortable. So, if you are picking any gadgets whether it is for traveling, beauty, relaxing, or anything, if the gadget is not providing comfort to her, then it would become worthless.
Style and function would always be at the top of my mind in such a case.
We hope you like the above article on the Best Gadgets for Women, if you love to share this post with others, then it will be a great contribution to us. Any questions / Suggestions or Feedback? leave us a comment below.
✪ Please Bookmark our website to receive the most useful updates, regularly for free. Press (Ctrl+D) now, to Bookmark instantly. @: gadgetskool.com