If you are a YouTuber and love to create YouTube videos, then you might have struggled with several aspects of video editing before you could get down to practicing your elementary editing skills.
YouTube creators are most sensitive with their laptops as they need to churn out videos on a regular basis on which requires continuous video editing either on the go or while stationary.
With the genius pieces of video editing software and laptops we have today, it is now easy to perform intricate video editing tasks even with limited technical expertise to explore the endless prospects like professionals.
However, there are lots of strong factors involve including what type of video editor you are using, the machine or PC or Laptop which can support your video.
Such heavy jobs must require having a laptop that could be powerful enough to handle almost anything as YouTube users need the best video quality with the best output in their videos.
For this, it is necessary to shuffle through the range of laptops available currently in the market mainly for the video editing purpose as YouTube creators have always a very specific feature set that they need from their laptop which needs to be versatile like their creative self.
After thorough research of the market, here are the top 6 best laptops for YouTube Creators about which I have collected information from which you can choose the one for yours.
Also Read: Best Gadgets for YouTube Studio Setup
Top 6 Best Laptops for YouTubers:
Note: Please find a good model from the below list and compare all the specifications & other details carefully according to your need, before making any purchases.
1. Apple MacBook Pro Laptop 15-inch
One of the most flexible and powerful video editing software packages is present in Apple's Final Cut Pro but it can only work on Macs and the most powerful laptop which is capable enough to run everything in it is the 15-inch MacBook Pro.
Recently Apple has upgraded its entire range of MacBook Pros with faster Intel processors, compact design with a very lightweight of 1.83kg, measuring 1.55cm thick, and packaging with high-performance video editing capabilities. The upgraded version also includes AMD Vega 20 Graphics with 4GB of HBM2 memory.
Features and Configuration:
MacBook Pro "Core i7" has built-in graphics, Iris, 15.4-inch Retina in display It has lots of features including Intel Core i9 9980HK 2.3 GHz(eight cores) / Intel Core i7 9750H(six cores )2.6 GHz and six or eight independent cores, A silicon chip, 16-32GB of DDR3L SDRAM 1600MHz, 6 MB of shared cache.
Integrated Intel Iris 5200 graphics processor with 128 MB Laptop Integrated Access Memory (DRAM), 256GB of PCIe-based storage to 4TB SSD and system shared memory.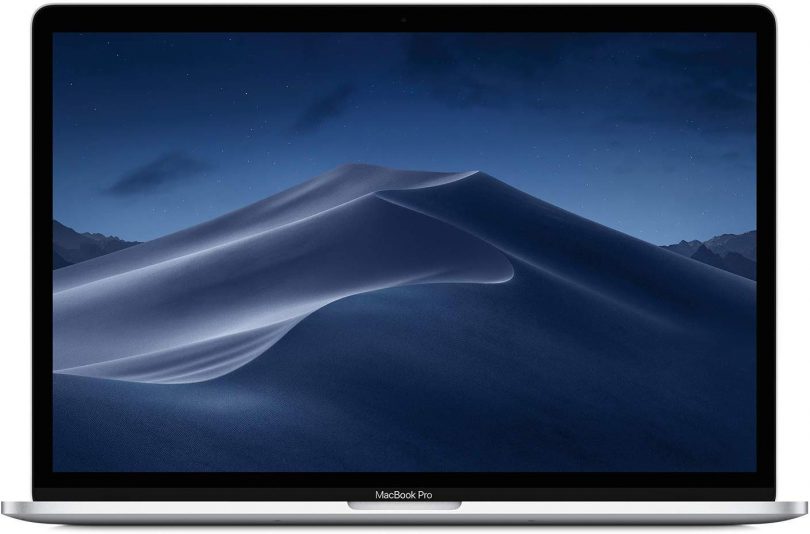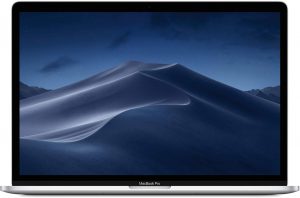 Pros:
It is one of the most trusted laptops by YouTube creators all over the world. It offers great hardware selection along with high-quality graphics and deeply integrated Final Cut Pro X Video editing software.
Apple MacBook can handle all types of 3D video with its latest generation of 6 cores or eight-core i7 or i9 processor paired with 16GB – 32GB of RAM.
Very lightweight of 1.83Kg only along with 1.55cm thickness.
Fast SSD and 4GB of Radeon Pro 560X graphics make editing smoother experience. The upgraded version includes AMD Vega 20 graphics with 4GB of HBM2 memory.
It has a high-resolution backlit display and 720p FaceTime HD built-in webcam.
Cons:
The cost is huge to buy the highest-end MacBook Pro with top-line configuration and updated version.
You must be used to the closed nature of the MAC-OS and the navigation features that differ from Windows OS.
It does not have the NVIDIA graphics option.
---
2. HP Envy 13
The current upgraded 2019 version of HP Envy 13 deserves its title as the current best all-round video editing laptop. The elegant and lightweight design is so attractive and it has a great keyboard with Full HD Screen.
Features and Configuration:
CPU: 8th Generation Intel Core i5-i7
Screen: Full HD (1,920 x 1,080)
RAM: 8GB – 16GB
Graphics: Intel UHD, Nvidia GeForce Graphics 620 MX150 2GB GDDR5
Storage Capacity: 256 – 512GB SSD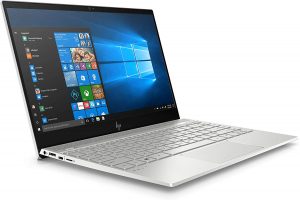 Pros:
It is cracking value for money as it has more affordable variant packing with a huge amount of performance.
It also consists of a quad-core processor with discrete graphics and a Full HD display that has enough storage and memory to handle huge video editing.
It is lightweight with weighing just 1.3Kg
A bigger SSD Card and faster 4GHz Intel Core i7processor.
Cons:
It does not have any six-core processor.
It is not up to the job of editing 4K video; it can handle 1080p footage without having any issue and without breaking the bank. So, no 4K display.
---
3. Lenovo ThinkPad X1 Extreme
From multi-monitor support to intensive gaming and even to a rich MR/VR experience, the ThinkPad X1 Extreme handles all the demanding and required computing tasks including high-quality video editing without any hitch. This ultra-light powerful laptop also has a 4K touch screen display option with Dolby vision.
Features and Configuration:
Processor: Intel Core i5-8300H Processor to Intel Core i7-8750H Processor
Operating System: Windows 10 Pro 64
Hard Drive: 512GB SSD PCIe to 1 TB SSD PCIe
Memory: 16 GB PC4 – 21300 DDR4 SODIMM SODIMM 2666MHz
Graphics: NVIDIA GTX 1050Ti 4GB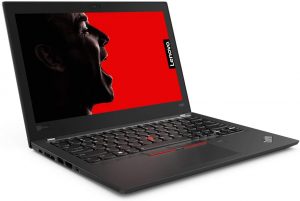 Pros:
It is known for its excellent keyboards and you will love it for its superior build quality and the 4K display availability on the top-end model.
Lenovo has offered options for the selection of ports and includes a Core i7-8750H SoC along with 16GB RAM to 1TB of SSD.
Its 4GB NVIDIA GTX 1050Ti card keeps the graphics running fluently.
Cons:
Lenovo has not any Ethernet port that can be harsh while your network is depending on the port.
The cooling fans may have a little bit high sound and audible while running at their top speeds which may seem to be irritating.
---
4. Dell XPS 15
Thin, light, and ultrabook video editing laptops really sound costly and far away from our reach. But Dell has proved this wrong with their new and updated Coffee Lake XPS Laptops. It weighs only 4 pounds and fully packed with a powerful 9th generation Intel Core i7 – 9750H 2.6 GHz Six-core processor.
You can say this as the most powerful and best option for the Youtubers XPS Laptop with the smallest 15.6-inch display worldwide with high-quality graphics. This laptop has the latest Nvidia GeForce GTX 1650 graphics which makes the Dell XPS 15 a perfect video editing machine for YouTubers.
Features and Configuration:
Processor: 9th generation Intel Core i7 – 9750H 2.6 GHz Six-core Processor
RAM: 16GB DDR4 RAM that can be expandable up to 64GB
Graphics: NVIDIA Geforce GTX 1650 4GB DDR5 Graphics
Operating System: Windows 10 Home 64 bit OS
Storage Capacity: 512GB PCIe NVMe Solid State Drive
Weight: 4.0 lbs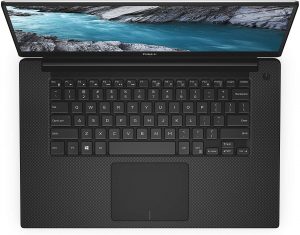 Pros:
Dell XPS 15 offering one of the best displays and keyboards in the industry which is full of top-end configuration including 16GB of DDR4 RAM, Core i7 – 8750H Processor and 512GB of SSD.
It is one of the best values for your money as compared to MacBook Pro.
Built with 4GB GeForce GTX 1050Ti Graphics Card that is designed for heavy-duty work and can easily handle the video editing work.
Cons:
The display resolution is 1080p while a scarcely available higher-end model offers a 4K display.
The Video editing software of Dell XPS 15 is not so well integrated like Apple Laptop.
---
5. Microsoft Surface Book 2
There are so many high-end detachable laptops among which Microsoft Surface Book 2 in one of the top choices among the video editors. It is available in two different sizes with a 13 inches and 15-inch pixel sense touch-screen display but we would definitely recommend the 15 inch variant for video editing as it has a more powerful CPU and GPU.
Microsoft Surface Book 2 with its powerful specs and unique 2-in-1 design is one of the most versatile laptops available in the market for YouTubers for the purpose of video editing.
Features and Configuration:
CPU:8th Generation Intel Core i7 processor
Graphics: Intel UHD Graphics 620 – NVIDIA GeForce GTX 1060 GPU
RAM: 16GB
Storage: 256GB-1TB SSD
Screen: 13.5-inch or 15-inch Pixelsense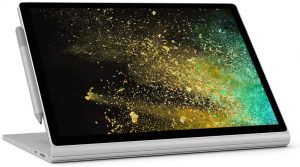 Pros:
Detachable Screen
Powerful Processor
High Graphics quality
Excellent Battery Backup or Battery Life with a minimum of 17 hours.
Cons:
Fulcrum hinge could cause a problem
---
6. ASUS ZenBook Pro Duo
ASUS is one of the most renowned brands in the laptop category and ASUS ZenBook Pro Duo is one of their slimmest and thinnest laptops that you can buy for video editing. The laptop is designed with dual screens and has a 15.6 inches 4K OLED touch-screen display. The extra real-estate is always helpful while editing videos and also filled up with a compelling set of hardware.
Features and Configuration:
Processor: Intel Core i7-9750H 2.6GHz Hexa Core Processor (Turbo up to 4.5 GHz)
RAM: 16 GB 2400MHz DDR4 RAM
Graphics: NVIDIA GeForce RTX 2060 6GB DDR6 Graphics
Storage: 1TB PCle NVMe SSD
Operating System: Windows 10 Home 64 bit OS
Display: 15.6 inch 4K Touch-Screen OLED Display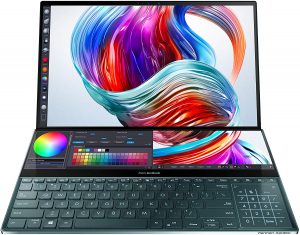 Pros:
It is powered by 9th Gen Intel Core i7-9750H Hexa-core processor
The powerful ASUS Laptop runs on Windows 10.
It has 16GB RAM
It comes with ASUS active pen stylus and a detachable palm rest that you can carry.
It has a thermally efficient machine with an Ergo lift hinge.
Cons:
It may cost higher than any other similar hardware-based laptop.
The battery backup is about 6 hours.
---
Final Words :
We always try our best to find the best deals for you, YouTube journey is now very much competitive along with huge potentials if you want to start your channel and grow fast, professional-quality videos will help you with this along with informative contents.
The above mentioned 6 best Laptops for YouTubers will help you edit your best videos with some higher details.
We have compiled this post to help you find your great device without any worries, there are several other models also available in the market, but these are our top picks so far.
If you like this post, please share this with other friends. Any questions/ queries, drop a comment below.
✪ Please Bookmark our website to receive the most useful updates, regularly for free. Press (Ctrl+D) now, to Bookmark instantly. @: gadgetskool.com