Jio Network Problem Solutions: If you are a Jio user and usually face poor or no signal issues due to any network problems in Jio's tower, read this article completely for a better understanding.
Like any other operator, Jio users also face network problems several times a day, which happens in almost every region across the country. Jio has a very large userbase and is currently at the number one place in the Indian telecom sector.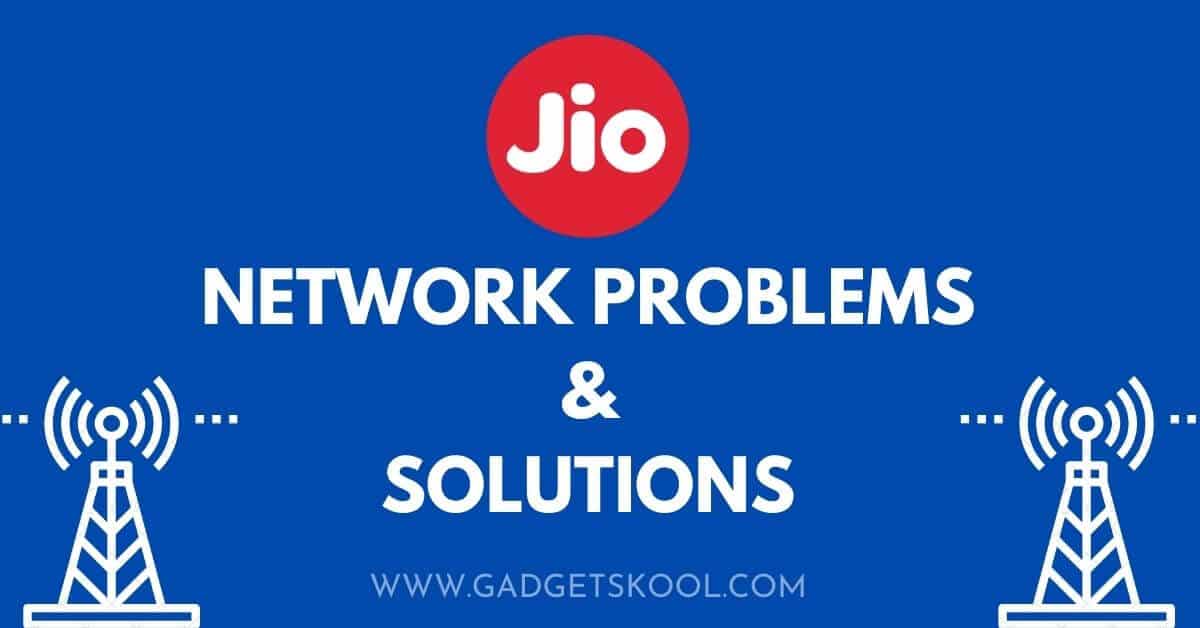 Due to their high-user base growing in millions month-by-month they are trying to expand their network capacity almost every single day to reach the entire country; from the rural areas to the metro/urban cities.
On the other side, due to the comparatively lower tariff plans for both call & data usage, the maximum users consume huge data packets every second, which further creates congestion in the network pipeline.
The competitor Airtel also has the same sort of issues, that we already discussed in one of our previous articles, to understand how to solve the Airtel network problems easily, with every possible detail.
Major Reasons for Jio Network Problems:
There are many reasons which can cause a network problem/error in a Jio phone, but some of the commonly known reasons are listed below:
Also Read: Fix Not Registered on the Network error in Airtel
Unsupported Handset:
Your handset plays a major role while receiving the network signals properly, if you are having an unsupported device then you will end up with serious network issues more often. Here unsupported handset doesn't mean your handset is not 4G compatible, you might have a 4G compatible handset but make sure that your handset has VoLTE support too.
Most of the 4G network providers are these days using the 4G VoLTE medium to transfer voice calls, which improves the call & signal quality. So this is the first step to confirm that your device is properly working from the hardware perspective(no network IC or similar hardware-related issues) along with proper 4G VoLTE support.
Low Coverage Area:
This is the most common reason why more people are facing frequent network issues or call drops, if you are staying inside a region where there are no nearby Jio networks/towers installed, then how can you expect a good signal strength.
Jio is still behind, as compared to its competitors in terms of network transmission. So you need to understand that they are trying to cover as much as possible corners of every city and rural region.
But you can't expect a sudden positive change to this problem. If you are living inside a low coverage area, try to move to a better coverage zone, or you can place your device in a possible open area nearby.
If nothing mentioned above is possible in your case, then you need to change your operator ASAP. Today almost every operator is providing the same benefits with the same price tag, choose a good network of your locality and swap your number to get uninterrupted services further.
Wrong Network Configurations:
Another reason for network problems might be for the wrong network configurations, but this happens very rarely; as today's generation smartphones are pretty advanced at detecting the proper network automatically.
But you need to make sure, that your device settings are not changed due to any accidental activity. If you notice any certain changes in your smartphone network settings dashboard, try to update that with the original settings.
Also, make sure that you have enabled the 4G LTE mode, as the Jio network will only work in the 4G mode, they don't have any other compatible band to serve your device(in case you have selected 3G/2G).
Also Read: How to Change jioFi Router Password & SSID
How to Identify a network Problem in Jio?
There is no rocket science to identify & detect a network problem in any device, these tips are quite common nowadays and anyone with the basic knowledge of smartphones can easily do that. But for your understanding let's look over these steps briefly, before we move towards the solution part further.
To identify a network problem on your device, look at these changes closely:
Frequent call drops while in a call session
Device not reachable when someone is trying to place a call
Very few or no signal bar on your display screen
Have to redial many times while trying to call any number
Unknown noise while having a call with someone
No service or emergency calls only notification on your device
Automatic calls divert to random numbers both for incoming/outgoing calls
These are some of the most common signs of a network problem for any operator, but you can also experience certain different issues. If your issue is completely different from the list mentioned above, do let us know about your issue and we will try to resolve that issue also.
Also Read: How to order Jio SIM at home
Steps to Solve Jio network Problems:
In this blog section, we will list down all the steps to solve your network problems one by one. These solutions are equally applicable for no network, limited network & poor signal issues.
Check your SIM card
The first step is to confirm your SIM card is properly working, to do that; remove your SIM card, check if it is good in condition(physically), clean your SIM card with a neat cotton piece of cloth & reinsert it into the SIM tray. If you are having a dual-SIM-supported handset, insert the Jio SIM card into slot 1 for better performance & connectivity.
Check for the tariff plan
Now, the next step is to check the tariff & validity of your SIM card to make sure if the connection is still active, you can easily check it from the My Jio app. If your SIM card is active and already has a valid plan, proceed to the next step further. If your plan is expired, recharge immediately to avoid disconnection further.
Reboot the device
Sometimes you may experience network problems due to some glitches in the operating system of your phone, just reboot once to check if it is solved after the reboot. To reboot the device press and hold the power button for a few seconds, and when the menu appears, tap on reboot/restart.
Discover the flight mode
Now, this step is applicable for those who are getting the signals properly, but often they are not able to place a call or frequently experience poor signal bar indications on their home screen. One quick way to fix it is, to activate the flight mode for a few seconds and then disable it, this way you will be able to reconnect the network with good signal strength. Remember, you have to follow this step multiple times a day when you are having similar network issues.
Manually search for the network
Another most effective way to get your signals back is to manually register for the Jio network, without depending on the automatic registration. All you have to do is go to the Settings menu > Network & Internet > Mobile Network > Automatically select Network and turn it off to search for the network manually and wait for a few seconds, when you see the JIO network just click on it to register manually.
If you are not getting to see any Jio network signals, then it is because of a nearby tower failure/ the location you are in for now has no coverage at all. Wait for a few hours to fix this issue.
While selecting the manual network search option, always remember that you have to set it to the automatic mode, once you are inside a high/good coverage area. If you will leave it like that you will lose the network again, as the device will not search for any available networks automatically for you.
Carefully choose the network band
Another most important step that most of the Jio users ignore, is to select the proper network band. This usually happens when you remove the SIM for some reason or try to put your SIM in a new handset. Jio doesn't have stepdown bands(3G/2G) rather than the 4G only.
That's why in the earlier step we notified you to put your SIM card in slot 1 to receive a good 4G signal, if you have already put it in slot 2, change it immediately to see the changes.
After you insert the SIM in slot 1 and reboot the phone, repeat the above steps carefully, now go to your Phone Settings > Network & Internet > Mobile Network > Select Your SIM(Jio) > Preferred Network Type > select the 4G (recommended option) and wait for a few seconds to get the signals back. If still, the problem exists repeat all the steps again.
Move to an open area
As we mentioned in the previous section, Jio is continuously trying to expand its network coverage, which clearly means that you won't find Jio network always in every reason. As they are quite new in the telecom space it will take a long time to establish their network properly for all.
If most of the time you are staying indoor and facing network errors or low network issues very often, what we can recommend is to try to move to an open area as suitable for you, to get better signal quality, while trying to place a call.
Avoid calls in the evening hours
Another most ignored thing most telecom users do is try to call in the evening hours mostly, because of their free time schedule. It is not a mandatory step to follow, but due to the very high traffic mostly in the evening hours, the network channels get congested. If you can delay this task for at least a few hours, you won't face any call quality issues.
Try to be on the same network
In this case, if the person you are trying to call has a Jio number, you can try to dial that number for a better connection. Most of the time due to the network switching delay or some technical errors from the base station other networks respond quite slowly.
To avoid such situations try to be on the same network if possible for you, rather than dialing any other number from a different operator.
Also Read: How to Block Jio SIM Online
Final Words:
Network problems are quite common for all operators and this is one of the most hectic issues that we can't avoid completely for now. But implementing some good practices in our day-to-day life we can eventually minimize this problem further.
Let's hope for a drastic improvement in the Indian telecom sector ahead when they will be able to establish their base properly.
In this article, we have tried to cover all the possible solutions that you can implement for a better improvement in the call quality instantly. If you think this article will also help others to solve their network issues, you can help them by sharing this piece of article on your favorite social media channels.
Thanks for your valuable time. 🙂
Frequently Asked Questions(FAQs):
Why my Jio SIM is having network problems frequently?
There is no straight answer to your queries. If you are experiencing the same for a few days, this could be due to technical problems from the service provider's end.
Also, you can follow the above-mentioned steps to fix the issues immediately from your side, if any misconfigurations are there in your device.
Why Jio network not working today?
If you are experiencing any problem with your device, try to reach other people in your locality and confirm the issue. There might be some technical glitches.
Is the Jio network down today?
This question is quite specific, if there are some technical activities carried out by the company you may face a network issue. But it's temporary & will be fixed after a few hours.
Tags: Jio, network issue, network problem, not working, sim card, slot 1, slot 2, 4G, internet, no coverage, suddenly, disappeared, Android, iOS, phone, today, yesterday, my location, inside, home, error, emergency calls only, poor network, call drop, no service, mobile, network not available, no signal, SIM, not detected, fix, stopped working, why, data, mobile data, net, settings, not registered on the network, my area, sign into network, poor signal, server down, how to, solution