Fake Loan Apps List in India: In recent years, India has seen a surge in the popularity of mobile loan apps. These apps promise quick and easy loans with minimal documentation and hassle.
However, not all of these apps are legitimate, and many fall into the category of fake loan apps.
In this article, we'll walk you through what fake loan apps are, how to spot them, and most importantly, how to protect yourself from falling victim to their scams.
Also, we will be sharing a list of the fake loan apps that the RBI already banned, and you must stay aware of them.
What Are Fake Loan Apps?
Fake loan apps are normal mobile applications that claim to offer easy and instant loans online but operate fraudulently. They often target individuals in need of quick financial assistance, exploiting their urgency. These apps typically ask for personal and financial information during the application process, which is later misused for various illegal activities, including identity theft and blackmail.
Signs of Fake Loan Apps:
Recognizing fake loan apps is crucial to avoid becoming a victim. Here are some signs to understand if a loan application is fraud or real.
#1. Unrealistic Loan Offers
Fake loan-providing apps promise large loan amounts with minimal interest rates, often too good to be true.
Be cautious if the offer seems too lucrative or generous, and do some research before applying.
#2. Lack of Credible Information
Check for genuine contact details, a physical office address, and a valid website. Fake apps usually provide vague or unverifiable information.
If you are downloading an app online from any application portals, properly check the developer's contact details and verify them using a quick Google search.
#3. High-Risk Permissions
Fake apps may ask for unnecessary access to your device's camera, contact list, or location data. Be wary if the permissions seem unrelated to the loan process.
While some genuine loan aggregators also require the same information to provide you with a quick personal loan, service availability, and check eligibility, it is a red flag to be alert.
#4. Pressure to Apply Quickly
Scammers often create a sense of urgency, pressuring you to apply immediately without giving you time to research or think it over.
Their main motto is to trap you, and they do so by setting up virtual customer support desks.
#5. Poor App UX/Website Information
While developing a user-friendly & rich UX-based app requires a lot of investment, most genuine loan providers do invest to ensure the best customer navigation experience.
Whereas fraudsters don't think about investing in the app interface and website design, they quickly try to find victims and scam them.
Risks of Using Fake Loan Apps: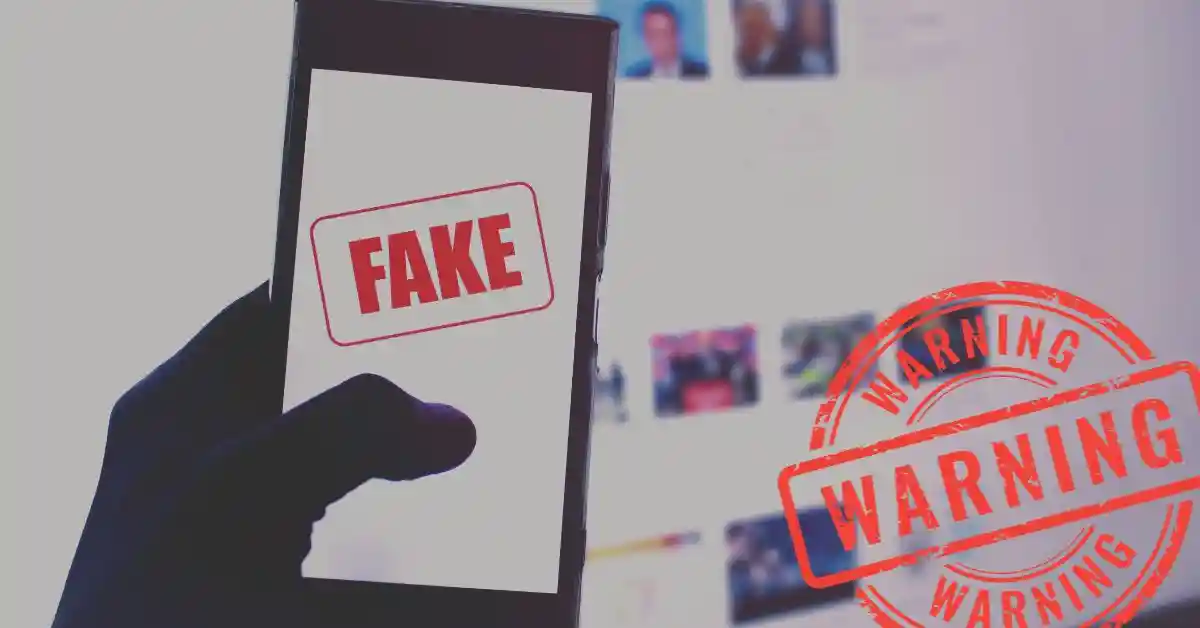 Using fake loan apps can have severe consequences:
1. Financial Loss: Scammers can deduct hidden fees or charges from your bank account, leading to significant financial losses.
2. Identity Theft: Your personal and financial information may be used for identity theft, leading to fraudulent activities in your name.
3. Harassment: Some fake apps resort to harassment and blackmail if you fail to repay the loan, causing emotional distress. we already have covered everything on dealing with fake loan app harassment that you can check.
It also has been noticed in some cases, some fake loan apps try multiple hard inquiries on your behalf without your permission, which further leads to a poor credit score.
So regularly keep an eye on your credit report, you can check your credit score online for free.
List of Fake Loan Apps in India (Banned by RBI):
In recent years, the Reserve Bank of India(RBI) has imposed some strict restrictions on online fraudulent activities for lending partners and NBFCs. Also, hundreds of apps have already been banned by the team to secure the digital lending space.
Here's the list of loan apps that are involved in fraudulent activities.
Agile Loan App
Aladdin Lamp
Angel Loan
Apna Paisa
Apple Cash
Asan Loan
ATD Lone
Balance Lone
Bellono Loan
Best Paisa
Bharat Cash
Bright Cash
Buddy Loan
Bus Rupee
Cash Advance
Cash Book
Cash Carry App
Cash Cola
Cash Colla
Cash Cow App
Cash Hole
Cash Host Loan App
Cash Machine Loan
Cash Magic
Cash Manager
Cash Mine
Cash Papa
Cash Park Loan App
Cash Park
Cash Pocket
Cash Samosa
Cash Station
Cashcarry Loan App
Cashcom
Clear Loan
Coin Rupee
Crazy Cash
Credit Buzz
Crystal Loan
Daily Loan
Dhan Pal
Discover Loan App
Dream Loan
DuttaRuppes
E Paisa
Eagle Cash Loan App
Early Credit App
Easy Barrow Loan App
Easy Borrow Cash Loan
Easy Brave
Loanzone
Lucky Loan App
Lucky Wallet
M Pocket
MagicCash Loan App
Magic Money
Magicc Loan
Mama Loan
Marvel Cash
Marwel Loan Baba
Matero Finance
May Loan
Mi Rupe
Minute Loan App
Minute Cash
Minutes in Cash
Mo Cash
Mobikquick
Mobile Cash
Monday Money App
Money Box
Money Ladder
Money Lander
Money Master
Money Master App
Money Muthual
Money Pocket
Money Stand Pro
Money Standup
Money Tree
Money View App
Monney Tank
More Cash
More Loan
My Cash Loan
My Kredit
Name of App
Ob Cash Loan
Ok Rupee Loan App
One Loan Cash Any Time
One Loan Easy Loan
Onstream
Orange Loan
Paisawala
Personal Loan App
Phone Pay
Pillai Loan
Plump Wallet
Pocket Bank
Pokemoney
PradhanmantriYojna Loan
Pub Cash
Quality Cash
Quality Cash Loan App
Quick Loan App
Rapid
Rainbow Loan
Rapid Paisa
Reliable Rupee Cash
Rich Cash
Rich Loan Go
Rocket Loan
Royal Able Rupee Cash
Royal Cash
Rupee Box
Rupee Loan
Rupee Cash Loan
Rupee Magic
Rupee Mall
Rupee Online
Rupee Papa
Rupee Pocket
Rupee Salam
Rupee Smart
Rupee Star
66 Cash
66 Cash App
This list is being updated regularly, so bookmark this page for further updates.
Also Read: Best personal loan apps to try
How to Protect Yourself from Getting Trapped?
While there are no such ways to protect yourself from being a victim, this is because the fraudsters try each and every possible method to conduct the scam operation. There are some key points to keep in mind that we have discussed below.
1. Research Extensively
Before downloading any loan app or applying for an online personal loan, research its credibility. Read user reviews, check for a physical office address, and look for the app on the official app stores like Google Play Store or Apple App Store.
Note: If you are getting phone calls regarding a loan offer, first you need to verify the lender details and check for any pre-approved offers from the official website or mobile app. Don't just apply blindly.
2. Verify Permissions
Review the app's permissions before installation. Avoid apps that ask for excessive access to your device. Some legitimate apps require permissions like Camera, Contacts, Messages, Location, Microphone, etc.
Once you have enough data about the legitimacy of an app, you can allow the requested permissions.
3. Read the Terms and Conditions
Before applying for any type of loan, go through the terms and conditions of the loan app. Legitimate apps have clear and transparent terms.
If an app doesn't have clear terms and conditions on a dedicated page or PDF document, immediately uninstall and delete the app.
4. Protect Your Personal Information
Do not share personal or financial information unless you are certain of the app's legitimacy. Check for a secure connection (https://) in the website address when sharing data over a website.
5. Report Suspected Apps
If you come across a fake loan app, report it to the relevant authorities like the Reserve Bank of India (RBI) or the National Cyber Crime Cell. You can also lodge a complaint to your nearest local authorities if possible.
Some Important Points to Remember:
If any app advertises its services through enticing promises of quick cash, often accompanied by slogans like "No Credit Check" or "Instant Approval." – Stay aware.
If any online app is asking for Processing Fees, while genuine lenders charge a processing fee after the loan is approved, fake loan apps ask for this fee upfront. Once the user pays, they disappear.
Learn how to report a fake loan app.
Also Read: NAVI loan app, things to know
Frequently Asked Questions(FAQs):
What are fake loan apps?
Fake loan apps are mobile applications that fraudulently claim to offer quick and easy loans with zero paperwork to individuals. They often target users in need of immediate funds but end up deceiving and exploiting them.
How do I identify a fake loan app?
Fake loan apps typically lack transparency, have poor user reviews, ask for unnecessary permissions, and may demand upfront fees. Always conduct thorough research and verify the lender's legitimacy through various channels.
Are all online loan apps fake?
No, not all loan apps are fake. Many legitimate lenders offer their services through mobile applications. It's essential to differentiate between genuine and fake loan apps by checking their credibility and user reviews.
How can I check if a loan app is RBI-registered?
Are fake loan apps illegal?
Yes, fake loan apps are illegal and engage in fraudulent activities. They often violate various financial and data privacy regulations, which can lead to severe legal consequences.
What actions has the RBI taken against fake loan apps?
The RBI has been actively working to combat fake loan apps. They regularly publish lists of unregistered NBFCs, warning users about these apps and urging them not to engage with them. They also collaborate with law enforcement agencies to take legal action against such apps.
How can I protect myself from fake loan apps?
To protect yourself, research loan apps before downloading them, ensure the lender is registered with the RBI, review app permissions, read the terms and conditions, avoid apps that ask for upfront payments, use secure payment methods, and report any suspected fraudulent activity to authorities.
What should I do if I've been scammed by a fake loan app?
If you've been scammed, report the incident to your local law enforcement agency and the cybercrime cell ASAP. They can guide you through the necessary steps for legal action. Additionally, consider informing your bank about the fraudulent transaction.
Are there any safe alternatives for obtaining loans through mobile apps?
Yes, there are safe alternatives. Many established financial institutions, banks, and registered NBFCs offer legitimate loan services through mobile apps. Research and choose reputable lenders with a track record of transparent operations.
I need a loan, and I found an app that promises quick approval. How can I be sure it's safe to use?
Before using any loan app, verify its legitimacy by checking if it's registered with the Reserve Bank of India (RBI). Also, read user reviews, research the app's reputation, and be cautious if the app asks for excessive personal information or upfront fees.
What personal information should I never share with a loan app?
Never share your Aadhar card, PAN card, debit card PIN, net banking details, or any sensitive information over the phone or through an app. Unless you are sure about the app's legitimacy.
Is it safe to upload my bank statements and ID documents on a loan app?
It's generally safe to share these documents with reputable, registered loan apps. However, ensure that the app uses secure encryption for data transmission, and double-check their privacy policy.
You can also use third-party aggregator services to protect your data & only share necessary information as requested.
How can I report a suspicious loan app that's not registered with the RBI?
If you come across an unregistered or suspicious loan app, you can report it to the RBI through their official website. Additionally, inform your local cybercrime cell and the Google Play Store or Apple App Store to have the app removed.
Can I trust loan apps that guarantee instant approval and no credit checks?
Be cautious with loan apps that make such guarantees. Legitimate lenders typically conduct some form of credit check(soft inquiry or hard inquiry), and extremely fast approvals may be a red flag. Ensure the lender is RBI-registered before proceeding.
What should I do if I suspect that a loan app is misusing my personal information?
While many apps take your consent to share your data with third-party lenders, If you suspect misuse of your personal information, stop using the app immediately.
Report the issue to your local cybercrime cell and the app store where you downloaded it. Also, consider changing passwords and enabling two-factor authentication for your accounts.
What can I do to recover my money if I've been scammed by a fake loan app?
while it's very challenging to recover your money from such apps, you can report the app to the cyber cell & local authorities. Additionally, you can cancel the autopsy if activated using your e-NACH mandate and discuss it with the lender politely.
What documents are typically required when applying for a loan through an app?
The documents required may vary from one loan app to another, but common documents include Aadhar card, PAN card, bank statements, salary slips, and address proof. The specific requirements will be mentioned in the app.
Final Words:
Fake loan apps are a growing concern in India, preying on the vulnerable and financially distressed.
By staying informed and following the steps mentioned in this guide, you can protect yourself from falling victim to their scams.
Remember, it's always better to be safe than sorry when dealing with loan apps and financial transactions.
#StaySafe
✪ Please Bookmark our website to receive the most useful updates, regularly for free. Press (Ctrl+D) now, to Bookmark instantly. @: gadgetskool.com