SaaS also popularly known as Software-as-a-service (SaaS) is a business model for software that delivers a subscription service to users. This article will provide you with the basics of what SaaS is, how it works, and why it's beneficial to your company.
The SaaS model allows your company to rent software rather than purchase it outright. SaaS is also called "on-demand software," and there are a variety of ways that companies can benefit from this type of software.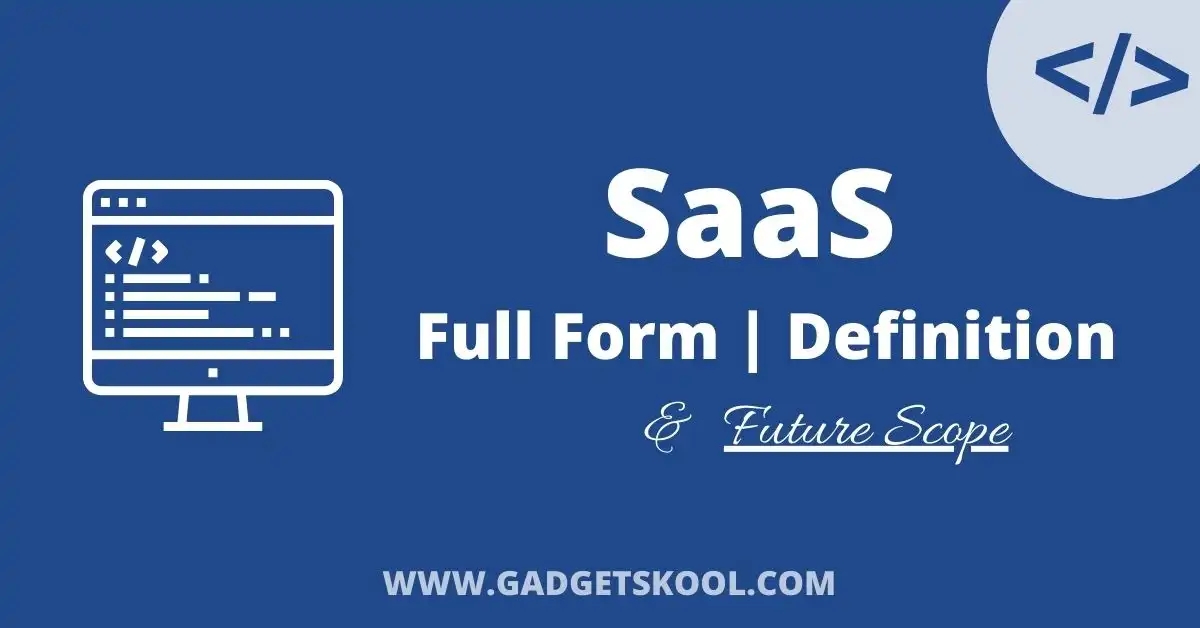 This model lets you pay for only what you use, so when you don't need the software, you don't have to keep paying for it.
The term "software as a service" (SaaS) is used to describe a software licensing and delivery model in which software is licensed on a subscription basis and is centrally hosted. It is a software distribution model in which applications are hosted by a service provider and made available to customers over the Internet.
In recent years, there has been a lot of talk about artificial intelligence (AI) tools being used as a SaaS offering. However, it's important to understand that AI is not a software application like other SaaS offerings. Rather, AI is a technology that can be used to build software applications. As such, AI tools can be delivered as a SaaS offering, but they are not themselves SaaS offerings.
Why Use SaaS?
Some companies aren't sure why they should use SaaS instead of in-house solutions or other types of software. There are many reasons why your company may want to use SaaS:
It's cheaper
It's easier to maintain
It can be updated easily.
Many companies use SaaS for all sorts of software purposes. For example, your company may want to use Salesforce or another SaaS application for customer relationship management (CRM). Or you may choose to use a different type of SaaS solution for accounting software.
You can test out how long it takes you to learn the software, then see if it is worth paying for monthly access. If it is, this is one of the biggest reasons why businesses should use SaaS: You don't have to spend time and money on the initial purchase and installation costs.
If you're ready to get started with SaaS, you need to choose the best SaaS solution for your business needs. First, you'll want to think about what kind of software you could use with a SaaS application. Even if your company uses Microsoft Excel for accounting, for example, there might be a better option that's easier to use and better supports your overall financial strategy.
Next, think about how much money and time it will take to get started on a particular platform. If you discover that it will cost too much to try out a particular SaaS application, either in terms of purchasing or setting up, it may not be a good fit for your business.
Your initial investment should be as low as possible without risking the integrity of your data or losing too much control over how you use the application.
How Software as a Service(SaaS) Works?
The term "software as a service" (SaaS) refers to a software delivery model in which software is provided to customers on a subscription basis. Customers can access and use the software via the internet, typically through a web browser.
SaaS is a relatively new model for delivering software and has only become possible in recent years due to advances in internet technology. It offers many advantages over traditional software models, such as lower upfront costs, easier maintenance and updates, and increased flexibility.
If you're considering using SaaS for your business, it's important to understand how it works and what its benefits are. This blog post will give you an overview of SaaS so you can decide if it's right for you.
The Benefits of SaaS:
There are many benefits of using the software as a service (SaaS), including the following:
SaaS can help you save money on software costs. When you use SaaS, you only pay for the software you use, which can help you save money compared to buying traditional software licenses.
SaaS can help you reduce your IT infrastructure costs. When you use SaaS, you don't need to invest in costly hardware and software infrastructure. All you need is an Internet connection.
SaaS can help you get started quickly and easily. When you use SaaS, there's no need to install or configure the software. You can simply sign up for an account and start using the software right away.
SaaS can help you scale your business quickly and easily. When you use SaaS, it's easy to add or remove users as your business grows. You don't need to worry about provisioning additional hardware or software licenses.
SaaS can help you improve your security posture. When you use SaaS, your data is stored in a secure, off-site data center. This can help you avoid many of the security risks associated with storing data in-house.
SaaS can help you cut costs. When you use SaaS, you're only paying for the software that you actually use. You don't have to pay for unused capacity or software licenses that are going to sit on your shelf gathering dust.
SaaS can help you get the job done faster. Because of the way, it's designed, SaaS helps reduce a lot of overhead when it comes to administrative tasks. The vendor does all the work for you and pushes improvements out quickly and efficiently by leveraging a larger pool of resources for testing, QA, and support.
SaaS can help you save money on maintenance and hardware. Instead of purchasing, upgrading, maintaining, and fixing hardware and software, you can sign on to a service that takes care of all of these things for you.
SaaS is more secure than in-house systems. Because security is built into the platform, your data will be safer with a cloud vendor than it would be if you were hosting the system yourself.
SaaS can help your business grow with less hassle and less risk. Rather than taking on debt or tying up capital to build an IT infrastructure from scratch, you can sign on to a service provider who's already done the legwork for you and has proven itself through use by thousands of customers.
Disadvantages of SaaS:
Like the benefits, there are also a few disadvantages to using SaaS, which include:
You are reliant on the internet connection – if there is no internet, there is no SaaS. This can be a problem in rural areas or if there are power outages.
Security – because SaaS is hosted on the cloud, there is a greater risk of data breaches. companies need to have strict security measures in place to protect their data.
Cost – SaaS can be more expensive than traditional software, especially if you need to use multiple features or users.
What Types of Companies Use SaaS?
SaaS is particularly popular with small and medium-sized businesses because it can provide them with enterprise-level software at a fraction of the cost of traditional on-premises software. Additionally, SaaS can be much easier to implement and manage than on-premises software, since it is typically delivered via the cloud and doesn't require any complex on-site infrastructure.
How to Choose a SaaS Provider?
There are many factors to consider when choosing a SaaS provider. Here are a few key considerations:
Support: Make sure the provider offers 24/7 support in case you experience any issues with the service.
Scalability: Choose a provider that can scale with your business. You don't want to be stuck with a service that can't keep up with your growth.
Pricing: Compare pricing between different providers to find the best value for your needs.
Security: Ensure that the provider has robust security measures in place to protect your data.
Terms of Service: Read the provider's terms of service carefully to understand what you're agreeing to.
The Future of SaaS:
The software-as-a-service model is becoming increasingly popular, as more and more businesses move to the cloud. SaaS provides many benefits over traditional on-premise software, including reduced costs, increased flexibility, and improved scalability.
There are many reasons why the SaaS model is so popular. One of the biggest advantages is that it helps businesses save money. With SaaS, businesses only pay for the resources they use, and they don't have to invest in expensive hardware or software licenses.
Another advantage of SaaS is that it's much more flexible than traditional on-premise software. With SaaS, businesses can quickly scale up or down as their needs change. They can also easily add or remove users, and they don't have to worry about managing complex infrastructure.
Finally, SaaS is also more reliable and secure than on-premise software. With SaaS, businesses can take advantage of the latest security technologies and disaster recovery solutions.
The advantages of SaaS make it clear that this model is here to stay. For businesses looking to improve their efficiency and bottom line, SaaS is the way to go.
Examples of some Popular SaaS Applications:
Salesforce: Salesforce is a popular CRM (customer relationship management) software that allows businesses to track and manage their customer relationships in one central location.
Gmail: Gmail is a popular email service provided by Google. Businesses can use Gmail to manage their email communications with customers and partners.
Google Apps: Google Apps is a suite of productivity tools that includes Gmail, Google Docs, Google Sheets, and Google Slides. Businesses can use these tools to collaborate on projects, share documents, and stay organized.
Dropbox: Dropbox is a popular file-sharing and storage service that allows businesses to store and share files online.
WordPress: WordPress is open-source software that allows businesses to create blogs, websites, and online stores.
PayPal: PayPal is an online payment service that allows people to send payments through the Internet. PayPal can be used for both business and personal uses, such as paying tuition fees or sending money to friends and family.
HubSpot: HubSpot is a marketing and sales software that helps businesses attract, engage, and convert more leads.
Zendesk: Zendesk is a customer service software that helps businesses deliver excellent customer service.
MailChimp: MailChimp is an email marketing software that helps businesses send newsletters, campaigns, and other email communications to their customers.
SEMRush: SEMRush is a popular SEO tool used to help businesses understand the on-site and off-site search engine optimization of their websites along with competitor analysis and keyword research.
CopyMatic: CopyMatic is an AI copywriting tool that helps writers to create on-demand sales copy, articles, and blog posts that they can use for businesses or on personal writing projects.
Conclusion
In conclusion, "Software as a Service" is a type of subscription software that allows users to access and use the software from a remote location. This type of software is typically offered on a pay-as-you-go basis, which makes it an affordable option for businesses of all sizes.
In addition, "Software as a Service" can be accessed from anywhere with an internet connection, making it a convenient option for busy professionals. If you're looking for an affordable and convenient way to access software, "Software as a Service" might be the right solution for you.
Frequently Asked Questions(FAQs):
Is SaaS a Good Choice for Startups?
There's no denying that software as a service (SaaS) is a great choice for startups. After all, it can be a cost-effective way to get your product to market quickly and without a lot of upfront investment.
Is SaaS Free to Use?
No, SaaS is not free to use. There are many different types of SaaS out there, and the price will vary depending on the type of software and the features you need.
However, most SaaS providers offer a free trial so you can try out the software before you buy it.
Is Google Cloud a SaaS?
Yes, Google Cloud is a SaaS (Software as a Service). You can use Google Cloud to create and manage your own applications, or you can use it to run your business on Google's infrastructure.