Oh! your YouTube home screen is full of unwanted videos. Do you want to remove some of the recommended channels from your YouTube home feed suggestions?
Ok, you got it right. In this article, we are going to discuss what you need to do with some steps required for that.
Billions of YouTube channels and uncountable videos are uploaded on a daily basis, and you're missing your interested video suggestions to watch your favorite one from the messy crap.
You know it's a common thing most people faced in their daily life unknowingly with some irregular activities.
Now the question remains, what to do? Right. Let's find out some solutions for that.
Also Read: How to lock WhatsApp on Android Smartphone
Steps to Remove Recommended Channels from YouTube Home Screen :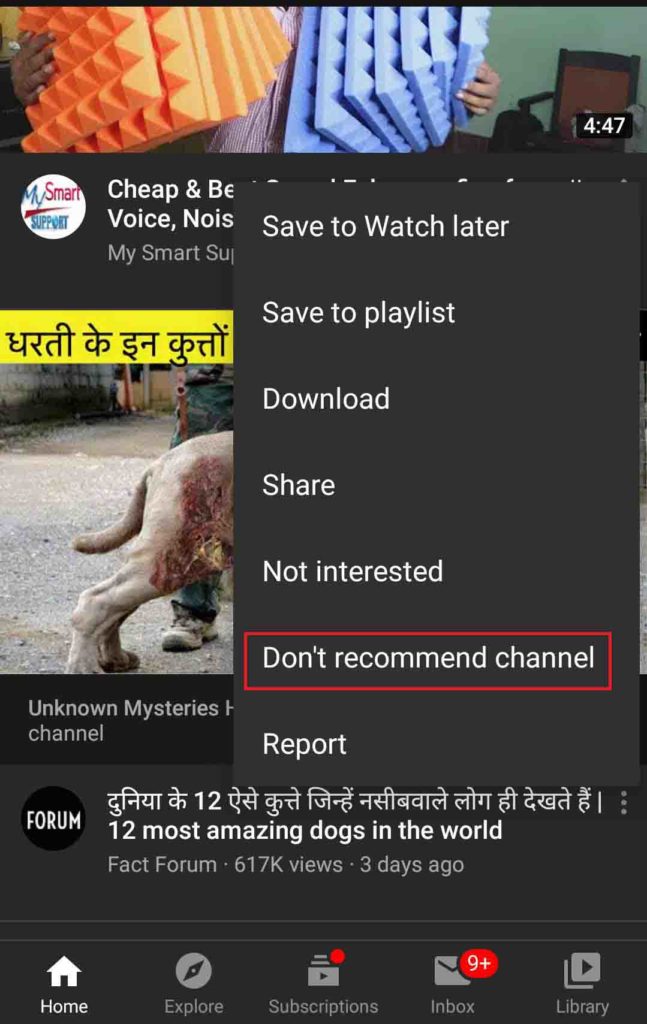 Open YouTube on your device.
Find the video from the home screen from the unwanted channel you want to remove.
Tap on the three dots next to the video.
Click on the "Don't Recommend Channel" from the menu appears.
Also Read: How To Remove a Number from Truecaller
To remove the recommended channel without signing in can be possible by the following steps:
Goto: YouTube > Settings > Watch History > Clear watch history.
Some Best Practices to Follow:
Always visit channels that you actually interested in. Visiting random unnecessary channels, not of your interests are always tracked by YouTube, and may again appear in suggestions in the near future.
Don't Mix things up, signing in from multiple accounts might help you to easily categorize your interests if more than one family members use a single device.
Sometime YouTube will try to show some suggested videos for you apart from your interest, if you don't actually want, don't play the video and remove the suggested channel by following the above steps.
Try to use multiple devices if possible your office laptop and your phone watch history shouldn't be the same, otherwise, you may skip an important video from the messy feed.
If you will try to follow the above steps, you will find a good, clean home feed filled with some interesting video suggestions on your device.
Hope you liked the post, if yes please share it with others too.
Also Read:
✪ Please Bookmark our website to receive the most useful updates, regularly for free. Press (Ctrl+D) now, to Bookmark instantly. @: gadgetskool.com