Truecaller Unlist: Are you getting spam calls over the day? have you installed the Truecaller app to find out the unknown numbers easily, so that you can block those calls? If your answer is yes, then this article is for you.
Truecaller is a smartphone app that can provide us the information about unknown callers/ numbers automatically when someone calls you or even you started a call to some unknown number that is not stored in your phone's contact list.
You can even get the details of the cellular company they are using along with the region address too, but these can only be possible when your phone is connected to the Internet.
This application uses the Internet connection of your phone to communicate with its own server where a large database of callers and their information is stored already.
But what if you don't want to share information or your personal data in public, due to some privacy reasons? in this topic, we are going to discuss in detail that, How you can unlist and remove your number from Truecaller easily.
But before that, let's start exploring some interesting things about this application briefly.
Also Read: How to remove Recommended channels from YouTube home screen
How Truecaller Works?
When you have downloaded and install the Truecaller app once, keep in mind that indirectly or directly you have shared your contact list details with proper access permission to the application as part of the end-user agreement.
As the information is crowdsourced by millions of users worldwide, the application works on the give and take policy. That means to view someone's info, you have to surrender your contact details and phone- book data to it, and vice versa, this chain makes itself a larger and unique database of tons of users globally.
The collected data from each and every phone is uploaded to the company's server and after that several filtering and pattern matching algorithms used to process and store the exact data of the caller, so that it can be available to all the users of this application.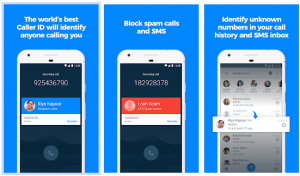 How Truecaller find names?
As we discussed on the above point, the data collected globally from millions of users and then processed with some specific algorithm sets. The information of the caller stored on different phones is also being tracked like caller name, carrier service provider information, etc.
If multiple people stored a specific phone number on the same name to their contact lists, then the app identifies itself that the name is a genuine name and stored it to the central database.
when that particular number starts a call to anyone, the information stored in the server gets fetched, and the name of the caller displays on the screen.
Now, you might have one question in your mind; is Truecaller safe to use or not ? let's know about that too.
Also Read: How To Reset JioFi Password
How safe is Truecaller?
undoubtedly, Truecaller is a safe application to use, I personally recommend it to use, unless you have any privacy concern with your phone number, because your name and other information will be public.
on the other side public numbers and your job roles are some juicy information for marketing agents, to spam your number with telemarketing calls day by day, if you don't want to receive unwanted promotional calls more often, you can avoid using it.
Although the app itself identifies spam calls and also has an added option to block those contacts to its block list, still it's not that useful, as marketers these days frequently call from different numbers to bypass these problems either.
Now finally to the solution for the major problem here. The main part of the topic, How to Remove Your Number From Truecaller ? Did you know, once you have signed up with the application and started using it, then after a few times if you have changed your mind to uninstall the app, you can do it easily, but the number and other details are still listed in the server of the company.
sounds weird? but it's true. for that, you need to unlist your number from Truecaller. Let's know step by step how you can do it easily.
Steps to Remove Your Number From Truecaller (Truecaller Unlist):
This is an important feature provided by the app to unlist private numbers from their database easily.
Step1: Go to the Truecaller unlist page at https://www.truecaller.com/unlisting
Step2: Select your country.
Step3: Enter your Phone number.
Step4: Fill the Captcha in the verification box.
Step5: Click the unlist phone number button.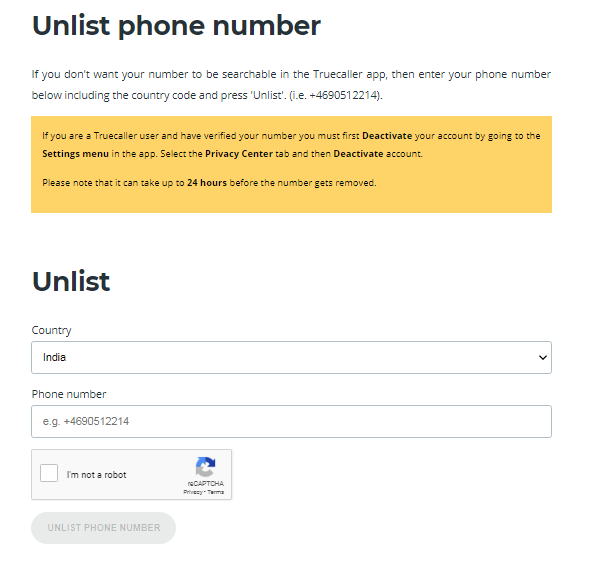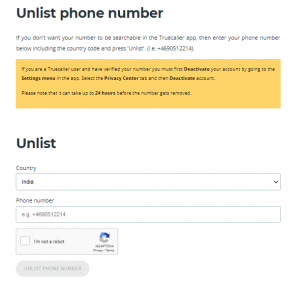 NOTE: It usually takes 24 hours to unlist your number from the service, however in some cases, it can take more time, so it's better to check your number manually with other Truecaller users.
Watch a video:
If you just want to deactivate your account from Truecaller, then follow the below steps.
Also Read: Airtel SIM Not Working! how to Fix?
Steps to Deactivate your account from Truecaller:
Step1: Open the app.
Step2: On the left top corner, click on the three horizontal lines.
Step3: Go to settings > Privacy center.
Step4: Click Deactivate from the options.
Step5: Click OK to confirm.
NOTE: Deactivating your profile doesn't remove your information from the server completely. Read other messages carefully before taking any actions.
Final words:
In this article we have learnt so far about how to unlist a Truecaller number easily, we tried to keep this article as simple as possible, if you have any concerns about Truecaller app, we will definitely try to cover that soon.
Any more questions you have regarding this topic? don't forget to ask us in the comment section below. If you found this post useful, share it with others too.
Frequently Asked questions(FAQs):
Is Truecaller safe to use?
Of course, Truecaller is a safe application to use as long as you are ready to expose your identity publicly.
Is Truecaller a Chinese app?
No, there is no link between the Truecaller app & china, it is a Swedish app and the company was founded in 2009 in Stockholm, Sweden.
How to deactivate Truecaller account?
You can easily deactivate your account from the app, we have mentioned all the steps above to perform such activity.
How can I find the Truecaller unlist page?
To unlist your number from Truecaller, you need to visit the Truecaller unlist page: https://www.truecaller.com/unlisting and fill in the details.
How to change name in Truecaller?
You can easily change your name from the Truecaller app, all you have to do is sign in with the app > click the menu on the top left corner > click the pencil icon below your profile image > change the name > click the save button.
How to delete Truecaller account?
You can deactivate and delete your Truecaller account from the app; by clicking the top left corner menu icon > settings > Privacy Center > Deactivate, and then click ok to remove your details.
✪ Please Bookmark our website to receive the most useful updates, regularly for free. Press (Ctrl+D) now, to Bookmark instantly. @: gadgetskool.com